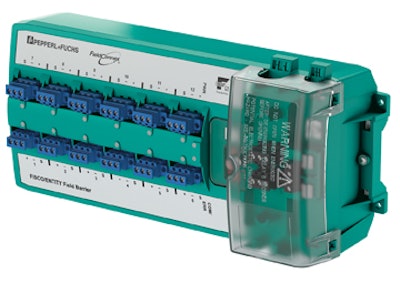 This content was written and submitted by the supplier. It has only been modified to comply with this publication's space and style.
The very compact FieldBarrier is DIN rail mounted in Zone 1/Div.2 environments and connects 8 … 12 instruments with intrinsic safety in Zone 0… 1/Div.1 environments. The FieldBarrier provides advanced fault diagnostics and isolation at the spur, enables live work on the trunk or spurs and supports plug-in surge protectors. The result is simplified installation, improved troubleshooting and maximized plant uptime.
At the spur, advanced fault protection isolates conditions such as short circuit, jabber or bounce, and Advanced Diagnostics detect installation quality issues for optimum segment availability. Internal components such as the terminator are connected without wiring, and connections requiring maintenance are minimized. Critical components are designed with redundancy or monitored for degradation to ensure high product integrity.
"The all new FieldBarrier manages load by turning the Spurs on in sequential order (1, 2, 3, 4…) to limit the effects of in-rush current and power supply overload upon segment startup. The entire process takes less than one second per channel," says Kristen Barbour, Product Marketing Manager. "For load shedding, Starting at the highest spur count (12, 11, 10, 9…), devices are disconnected one by one in case of an overloaded power supply due to a device fault (ex. water ingress) that would cause a device to draw more current than it would under normal operating conditions. In this case, critical devices would be placed on the first spurs with the least critical devices occupying the last spurs," explains Barbour.
The FieldBarrier also supports diagnostic-enabled accessories such as enclosure moisture ingress sensors and surge protectors. They all transmit fault and diagnostic information to the control room indicating the affected spur.

Companies in this article