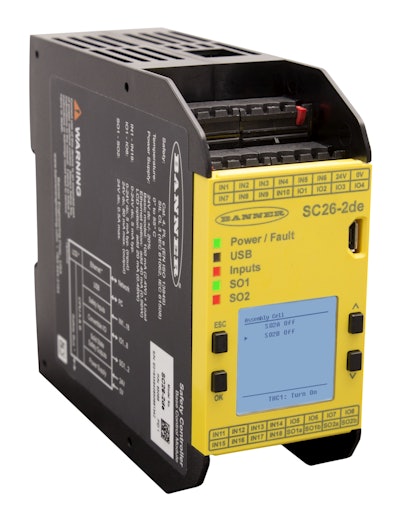 Designed to be more flexible and easier to use than other small footprint safety controllers, the SC26-2 uses safety function blocks, Boolean logic functions and a user-friendly programming environment for creating safety control logic.
With 26 input terminals and two redundant solid state safety outputs, safety system design engineers are able to easily monitor a variety of input devices, such as e-stop buttons, rope pulls, interlock switches, safety light curtains and other safety and non-safety input devices. The controller's free PC Graphical User Interface configuration software features pre-configured safety function blocks, including two-hand control, muting and enabling device to simplify application programming and it includes a ladder logic diagram and a text based summary of the all of the input device and controller output settings.
"The SC26-2 Programmable safety controller offers eight input terminals that can be configured to monitor input device signals, source 24V dc or serve as IO status outputs, offering exceptional utility," said Tom McMonagle, Director of New Product Planning, Banner Engineering. "With intuitive programming and live display capability, the SC26-2 was designed for and vetted by customers who are working with fewer resources and need to save time."
The optional LCD displays IO status and actionable diagnostics like input fault information and device wiring details. This assists users during commissioning and enables faster troubleshooting to minimize machine downtime.
Ethernet models are also available and have an embedded Ethernet node that provides up to 64 virtual status outputs. The Ethernet IO registers automatically populate based on the configuration and can also be pared down or customized depending on application requirements. For larger scale applications, Banner will offer expandable models in the future, which will allow users to add up to eight additional IO modules.
Companies in this article