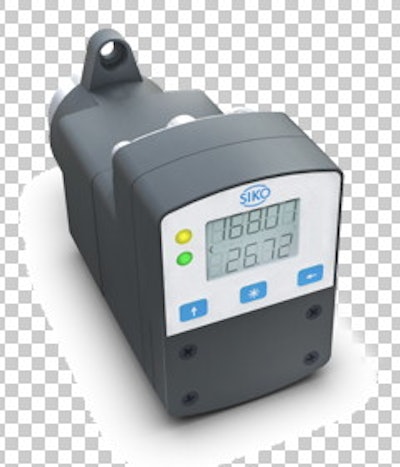 The AG05 is scaleable for a wide range of variants and performance classes. It features: a hollow-shaft design; magnetic absolute encoder; integrated fieldbus interface; torque up to 5 Nm; and mounting dimensions compatible with DA095 and AP04 position indicators
Start-up is entirely at the actuator or via bus communication. Local monitoring of the AG05 and control of its operating statuses is achieved using just three control keys, thanks to the support of a two-line SCD displaying target and current values. Programming and set-up adjustment times are minimal, and a 2-line LED display supports users from start-up through operation. A brushless 24-volt DC motor features a planetary gear, controller, power electronics, and integrated fieldbus interface enclosed in a dirt-resistant housing.
The actuator provides smooth operation and a power density of 30 W/dm³. The separate voltage supply for control and power electronics allows a variety of safety options. The integrated control electronics greatly ease the workload of the up-stream PLC. Monitoring functions for temperature, power, and contouring errors are already integrated into the actuator. The battery's charge level is monitored continuously so that the need for a replacement, which the user can do unassisted, is displayed or reported in real time. By buffering the battery of the magnetic low-power consumption (LPC) measurement system, position deviations are also recorded in powerless states making repeated referencing unnecessary.
The AG05 helps ensure precise positioning with a very high level of repeatability. The measurement system monitors all 360° of a turn, with 1,600 steps, which corresponds to a resolution of 0.225°. Depending on the gradient and quality of the spindle, the actuator produces a positional precision that cannot be attained manually, according to the company. The wear- and tear-free magnet technology in the LPC measurement system is also impervious to dirt, moisture, shocks, and vibrations. A magnetized ferrite ring sits without play on the pinion shaft and transfers its gyrations to the evaluation electronics via a sensor. This changes the number of the north-south pole detected at the gyration into an impulse, and from it determines the rotation angle and thereby the distance traveled.
Companies in this article