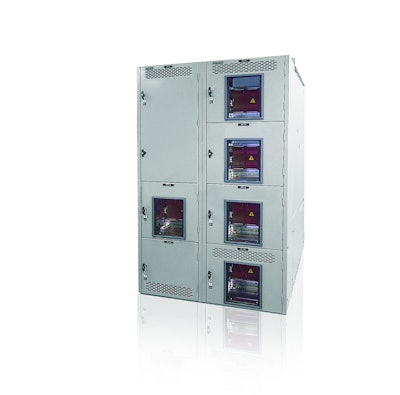 The Emax Link is an abbreviated switchgear that provides electrical Distribution Equipment Manufacturers (DEMs) an advanced solution to easily design and build their own UL 1558 switchgears. Developed to maximize the functionalities of ABB's popular Emax power circuit breakers, the Emax Link is designed and constructed to provide superior power distribution, protection, and safety, providing DEMs with an advanced solution to withstand the mechanical, electrical and thermal stress found in a wide variety of manufacturing environments.
Each Emax Link abbreviated switchgear section includes all frame members, panels, barriers and bussing necessary for metal-enclosed construction, requiring only the addition of control devices, side covers, bus splices, wiring and the Emax breakers. The comprehensive ratings of the Emax Link allow DEMs to complete the switchgear lineup by simply adding the custom controls and wiring required for the specific application.
The Emax Link is available with a main bus rated current up to 10,000 amps at 600V. It is also available in many different configurations, such as main breaker, tie breaker, feeder breaker and auxiliary sections, which can be arranged and assembled to form complete switchgear lineups as required.
"ABB's Emax Link is an innovative concept that will allow our customers to design their own switchgear, providing them valuable flexibility to respond to the constant design changes and stringent demands that are common in today's electrical construction environment," said Nazim Matmati, ABB product group manager, LV Breakers.
The Emax Link is targeted to DEMs serving the following markets: oil and gas, mining, utility and co-generation, power generation, steel mills, pharmaceutical, wastewater, food and beverage, healthcare, aerospace, critical power and data, semiconductor and marine.
Additional features of the Emax Link metal-enclosed abbreviated switchgear include:
• Modular frame design arrangements for flexibility
• Barriers for increased personnel protection
• High short circuit ratings
• Insulated bus options
• Standard connections to a full range of ABB products
• Ample room for adding controls
• Competitive footprint

Companies in this article