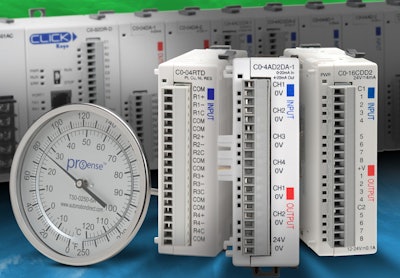 Available 24 VDC combination discrete modules include eight-point DC input/eight-point DC sinking or sourcing output models; a four-point DC input/four-point relay output model is also available.
Available 24 VDC four-channel analog input modules with 13-bit resolution include 0-20 mA current input and 0-10V voltage input versions; 12-bit resolution four-channel output modules in 4-20 mA current and 0-10V voltage versions are also available. Also added is a four-channel input/two-channel output module in current and voltage versions. This module features 13-bit resolution inputs and 12-bit resolution outputs.
Four-channel RTD and thermocouple modules with 16- bit resolution have also been added. The RTD input module accepts Pt100, Pt1000, jPT100, Cu10, Cu25, and Ni120 elements; resistive ranges are also supported. The thermocouple input module supports J, K, E, R, S, T, B, N, and C-type thermocouples; voltage ranges are also supported.
The new CLICK analog modules are configured with the easy-to-use programming software, available as a free download or for purchase on CD.

Companies in this article