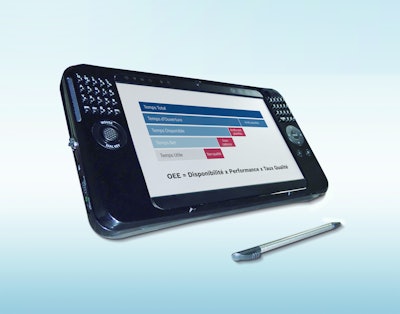 A central database ensures expertise is retained within the company. The fully customizable CBT tool helps operators make maintenance decisions and achieve fast and easy format changes through automated guidance. It can be managed and synchronized via a USB cable on a personal computer. Once the operator inputs information about a future format change, the device automatically generates the correct change-order code to implement the necessary machinery alterations. This ensures the most efficient changeover procedure is followed, and reduces human error.
To further maximize uptime, the interactive tool offers a troubleshooting kit consisting of detailed guidance for breakdown situations. In the event of an issue on the line, the CBT Mobile provides users with a step-by-step guide through the recommended problem-solving activities. Intuitive software design also allows users to create new and modify existing standard operating procedures as system requirements change. Additional remarks such as personal tips or comments can be added to the database and photographs of system elements can be uploaded from the built-in camera to make processes easier to follow.
The CBT Mobile features a central database where relevant technical information and maintenance procedures are stored. This ensures that expertise and knowledge are retained within the company even if trained employees leave, and eliminates the need for paper-based manuals and advice sheets that were previously crucial for maintenance.
To strengthen in-house maintenance skills, the database can also be used to train staff on procedures and processes that should be followed to maximize production efficiency. Once the training has been conducted, the device also acts as a testing tool to evaluate operator knowledge and identify areas for improvement.
For fast and efficient spare parts ordering, the CBT Mobile features a wireless connection and allows operators to access Bosch's online E-portal catalogue. It offers instant access to customized parts lists as well as information on availability, price and estimated delivery time. To ensure purchasing accuracy, orders can be placed directly from the handheld computer. Users can compare the photographs in the online catalog to the worn or broken parts while standing next to the machine.
Companies in this article