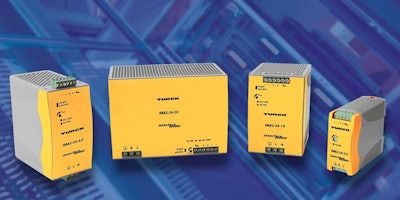 Offering wide-range input—between 90 and 260 VAC—the 24VDC Power Supply can be used in diverse supply networks worldwide. Through the use of an onboard potentiometer, the output voltage can be adjusted from 22.5 up to 28.5 VDC, and styles are available with an output current strength of 2.5, 5, 10, or 20 ampere.
Featuring Class 1, Division 2 certification and rated IP20, the 24VDC Power Supply is highly-efficient and can be run in parallel for applications requiring redundancy, and includes overload protection of up to 150%.
For enhanced operator control and device status, a power relay guarantees a reliable functional check, monitoring itself for voltage. This eliminates potential wire breakage or system malfunction. The device can also bypass power failures automatically, which allows the AC input to disappear for up to 30ms without any effect on the output.
Companies in this article