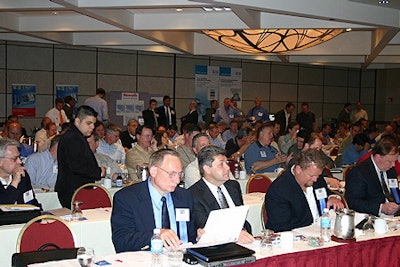 Packaging Automation Forum: where to from here?
In Part 1 Part 2 and Part 3 of this special report on the Packaging Automation Forum we saw the strides that food pharma and beverage makers respectively have made implementing similar automation strategies to achieve their companies' business goals. In this concluding report we'll see how packagers plan to break through the obstacles that still exist.
Leaders or followers? Questioning the status quo
The Hershey Company's global operations engineering director Wade Latz opened the conference with some tough rhetorical questions that all packagers need to answer for themselves.
For example he recognized that there perhaps one or two leading suppliers in the US of the core automation technologies. He asked whether this represents a monopoly and answered that he was not sure.
Then he asked whether he can differentiate using the same technology that everyone else is using. If everyone is using the same base technology he asked is it holding companies back?
Who he asked are the folks who will differentiate themselves by breaking away from the leaders and going with entrepreneurial suppliers instead?
Who cares about technology anyway?
CPGs are product or brand companies Latz concluded not technology companies – even if they depend on technologies for competitive advantage. He asked who in marketing finance legal or manufacturing really cares about technology.
Instead the big picture may be new product development market share expansion or increased profits. How does a technology strategy support these real business drivers? Engineering managers have to establish this linkage.
Automation strategy should be simple and quickly executable. It should be transferable into the future across product lines and globally. It should enhance supplier performance be maintainable and cost effective appropriate for the business environment easily understand and embraceable by business managers.
Automation should 'self-justify'
If they do this right Latz contended automation can enable his company to develop new products. Selective use of automation is making more of his projects more justifiable than before. Automation is allowing the company to launch new products faster and more reliably.
In addition Hershey's control department has lowered project costs by lowering automation costs. Use of automation has uncovered hidden capacity improved products and lowered operations costs.
Measured in these ways automation justifies itself.
But are most of us still missing the boat?
For the past 6 years the OMAC packaging workgroup has identified and endorsed international standards for automation including communications standards and most notably the IEC 61131-3 programming languages. The IEC languages promote modularity which is one of the most important aspects of automation software design.
This modularity is a key aspect of the upcoming ISA 88.05 standard for which P&G's Dave Chappell provided a progress report. Based on the successful ISA 88 batch process standard Part 5 promises increased functionality and consistency across multiple control platforms.
With a modular IEC-conforming template and software library numbering over 400 IEC-conforming software objects for packaging automation ELAU is by far the packaging industry's most prolific practitioner of IEC 61131-3 today. The company's forum spokesman John Kowal attributed much of ELAU's functionality to this software strategy.
But this standard is still underutilized by most North American control suppliers machinery builders and users. Many offer a subset of the available IEC languages and a handful of software objects such as those assembled by the OMAC group.
As evidence of where our industry is on the adoption curve OMAC technical director Dave Bauman presented the results of a survey indicating that only 25% of OEMs have implemented the OMAC packaging guidelines. It seems that 49% of respondents didn't even know what these guidelines were. And 25% say they aren't implementing because their customers aren't requesting the standards.
Bauman stated that he sees an opportunity to use more of the IEC languages instead of the electrician's ladder logic that for 3 decades has dominated the North American industrial control landscape.
ELAU which has been active in the OMAC group from the beginning also has seen the opportunity – having leveraged since 1998 the entire set of IEC languages to their best advantage for its customers. One could reasonably conclude that the tools to improve automation performance are commercially available. And as articulated by PAF speakers it's time to implement.
How to optimize underperforming machines?
Dr. Dragan Filipovic of Kraft Foods has played a diverse range of roles from scientific research to rolled-up sleeves working with servos and PLCs on existing machines in the plant.
He noted that a 1% improvement in manufacturing for Kraft equates to $100 million on the bottom line. And the true cost impacts of downtime resonate all along the supply chain. So he contended why we haven't we developed the same kind of diagnostics for machinery that we have for cars today?
With better diagnostics Filipovic explained packagers can find the choke points enable lean manufacturing and ask OEMs the right questions to help them optimize machine performance.
This is another example of technology supported today by the most advanced packaging automation systems – if the automation leaders avail themselves of these resources and convince their suppliers and their plant floor colleagues alike to embrace a brighter future.
Additional resources
This fourth and final report on PAF is brought to you courtesy of ELAU a proud charter sponsor of the Packaging Automation Forum. Maker of the PacDrive™ automation system ELAU is the world's only automation supplier to focus exclusively on packaging.
ELAU invites you to order a free copy of a new ARC Advisory Group report on the subject of evolving packaging automation specifications by clicking here.
For more reports on packaging automation trends visit www.elau.com/packagingautomation.
Download the other reports in this series here: Packaging Automation Forum: a blockbuster event Pharma perspective on Packaging Automation Forum and Beverage makers speak at Packaging Automation Forum.
Companies in this article