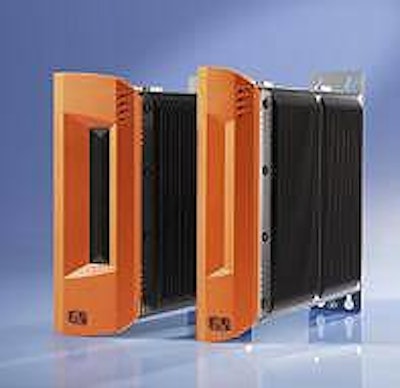 This sleek new Industrial PC was introduced to the market especially for complex automation tasks.
Highest levels of performance
The APC620 with Intel Pentium M and Celeron M processors is available for high-performance applications that require a powerful processor. These processors, developed especially for mobile computing, offer many advantages for industrial applications as well. They combine a high computing capacity with low power consumption. The clock rates range from 600 MHz to 1.8 GHz. The Intel 855GME chipset contains two integrated graphic engines which provide optimal use of memory for the system and graphics.
Modularity
Three housing types with 1, 3 or 5 PCI slots are available. The rest of the components are also highly modular: a Compact Flash slot is always provided on the base system and can be supplemented with another Compact Flash or a hard disk. There are up to two slots provided for other drives as well. These include CD-ROM, DVD-ROM/CD-RW, floppy disk, or hard disk devices. The modular plug-in technology makes it easy for the user to switch drives.
Fan-Free
The APC620 is fan-free. All components that require cooling are placed on the board so that the heat is distributed directly to the large outer heat sink. The advantages of a fan-free system are obvious: When using CompactFlash cards, there are no rotating parts. This eliminates maintenance work such as regularly exchanging fan filters. Maintenance costs and worn out parts are greatly reduced.
Compact construction
The APC620 is designed to take up the least amount of space in the switching cabinet. On its front, a cover conceals the interfaces for drives as well as the Compact Flash slot. Very early in the development phase, B&R decided to use this type of mass memory since it doesn't have any rotating parts and because it can also last a long time in rough industrial environments with an extremely high level of reliability. All of the device's connections and interfaces are located on the top side of its housing so that they do not protrude and increase the installation depth. A heat sink is also mounted on the side.
The flexible Automation Panel display unit
In addition to the APC620 Automation PC, B&R is also offering a new series of display units under the name "Automation Panel". The SDL (Smart Display Link) is already integrated on the APC620. It combines the digital display interface and touch transfer for the display unit into one interface. Matrix keys, service data (temperature, operating hours) and USB signals area also transferred. SDL also allows the display unit to be equipped with PC resources such as USB drives and keyboard. Four Automation Panels each can be connected via SDL on the integrated and on the optional SDL interfaces. The display content on the tow lines is different (dual independent display). Alternatively, the same display content can also be shown on all displays (display clone). Touch and key entries on the Automation Panel can be locked alternately with the software to prevent operating errors. USB devices can only be connected directly to the Automation Panel (without hub). Starting at a segment !
length of 30 m and higher, USB is only available up to a maximum of 40 m for the first respective display.
Robust aluminum fronts, IP65 protection, and a matter-of-fact design allow this device to be used in any industrial system and machine environment. The Automation Panel's numerous variations can meet any individual demands regarding user guidance. The 10.4", 15", 17", 19" and 21.3" displays are available with touch screens, fixed function keys, or a combination of both.
Companies in this article
Videos from B&R Industrial Automation