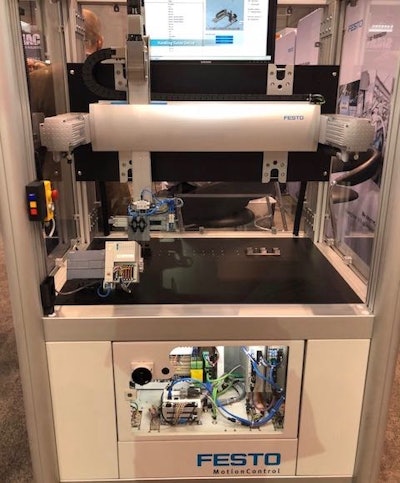 In an effort to make the design and assembly of packaging machines faster—and easier—Festo showcased multiple technologies at PACK EXPO International, including a brand new motion controller.
The CPX-E is a modular control platform providing plug-and-play connectivity to sensors, cameras, as well as HMI and electric and pneumatic servo systems, including actuators. As an integrated system, the CPX-E features software functionality that is tailored to many products and systems from Festo, from parts handling to palletizing and assembly systems.
To illustrate the advantages of CPX-E, Festo displayed a flow wrapper demonstration where sensors and image processing systems including a camera, electric servos and actuators handle 100 percent of the motion functions comprised of CAM control, tension control, temperature control and printing mark control for the conveyor belt, foil transport, pusher, sealer and cutter. A Festo HMI is utilized for recipe and alarm handling.
The controller includes an EtherCat master interface, as well as ProfiNet and EtherNet/IP bus slave interface, standardized Codesys v3 programming interface as of SP10, and integrated motion functions such as SoftMotion. In addition to comprehensive PLC functions and multi-axis applications with interpolation, the CPX-E can be the heart of an EtherCat system or be easily integrated into existing host systems using the integrated ProfiNet device interface or EtherNet/IP slave interface. The OPC UA client and server functions ensure easy integration and interoperability in industry 4.0 host environments with cloud and digitalization concepts.
Festo estimates that with an all servo electric packaging machine utilizing the connectivity advantages of the CPX-E controller and broad portfolio of electric motion components, it can be a single-source component and custom-assembly supplier for more than 25 percent of the motion handling solution. The CPX-E is suitable for all major PLC and industrial computer master control systems, including those from Rockwell Automation, Siemens and Beckhoff.
Companies in this article