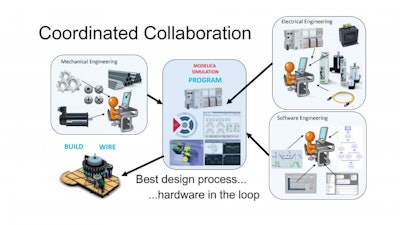 Virtual and/or Augmented Reality was talked about frequently during the first day of The Automation Conference & Expo, and nowhere more compellingly than in a joint presentation by WestRock, Dassault Systemes, and Bosch Rexroth. Driving the project they described to the audience was the fact that SKU proliferation, a multiplying number of retail channels, and customization of packaging based on specific demographic characteristics have continued to intensify, to the point where packaging machinery builder WestRock finds itself needing to decrease time to market and build beverage cartoners having more flexibility than ever.
What the trio of firms came up with is model-based systems engineering—where packaging machinery, among other things, can be designed and built virtually rather than physically thanks to open and nonproprietary simulation software that makes it easy for multiple stakeholders to collaborate in modelling projects. Fortunately for them, Bosch Rexroth and Dassault Systèmes were already in conversations about how this kind of virtual machine design might be accomplished. At the center of their work was a programming language called Modelica, an object-oriented modeling language for component-oriented modeling of complex systems containing mechanical, electrical, electronic, thermal, control, or process-oriented subcomponents. By leveraging Modelica, WestRock, Dassault Systèmes, and Bosch Rexroth became the legs of a three-legged machine-building stool.
Bosch Rexroth's Open Core Engineering approach made them a good strategic partner for Dassault Systèmes. With the Open Core Interface, Rexroth provides a software interface that permits enhanced access to the control core, offers numerous programming languages, and allows the integration of smart devices into automation systems. Open Core Engineering brings together the previously separate worlds of the PLC and IT automation as a broad portfolio of software tools, function toolkits, open standards, and Open Core Interface. It addresses the complete development cycle of a machine, from design to implementation to production. So it means Dassault can just drag and drop a Rexroth component, a drive for example, inside the Modelica side of the platform and be automatically connected to the real hardware. Because already inside the Open Core Engineering is all the IT communications required.
The business benefit gained by WestRock is that it has moved from a machine design process that was sequential in nature to one that is a coordinated collaboration. In the past, Mechanical Engineering would build what appeared to be required. They would then pass it off to Electrical Engineering for wiring. Finally, it would go to Software Engineering for programming. This siloed and sequential process was inherently inefficient. Now in its place is a process that is simultaneous and collaborative across multiple dimensions. All three engineering groups work together to harmonize the design of the machine. The result? WestRock is able to do is design an entire machine in the Dassault Systèmes simulation software. But it's a virtual machine, so the simulations can be run to make sure components are sized properly. And it's all done electronically, in the simulation, before any metal gets bent or cut. The bottom line is that the design and build process behind a piece of WestRock packaging machinery has been dramatically shortened.
Produced by the PMMI Media Group, The Automation Conference & Expo continues on Wednesday May 24 at the Chicago Marriott O'Hare.