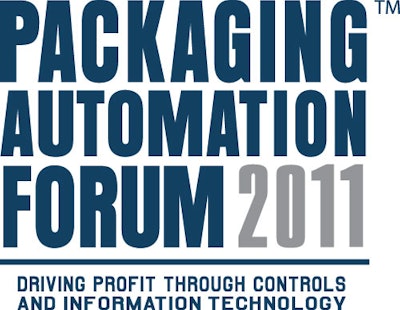 Sponsored by Packaging World and sister publication Automation World, this unique event features peer-to-peer education about how to increase productivity, flexibility, and performance using state-of-the-art packaging controls and information technology.
Professionals from Nestlé, Frito-Lay, Kraft, Rich Products, and other leading companies will be presenting at this year's event to demonstrate how emerging technologies are optimizing manufacturing and packaging operations. Nestle's Bryan Griffen, electrical and automation engineering group manager who is based at Nestle headquarters in Vevey, Switzerland, is sure to command the attention of the audience at this event. He'll be describing a significant change in focus now underway at the world's largest food and beverage company wherein packaging line efficiency is being carefully examined to see how it might make a better and more consistent contribution to the bottom line. Right in the middle of this entire initiative is PackML, or, as it is more officially known, the ISA-TR88.00.02 PackML Standard.
"We've come to realize that in order to improve the bottom line, in order to drive effectiveness and efficiency in our operations, we need to take a more active and direct role in defining what packaging equipment should look like," Griffen tells Packaging World. "We want to make it clear that on the process side of things, where we own the technology, we will continue to be very dogmatic about whom we will use for process automation and how it will be used. But when it comes to packaging, it's the OEMs who build the machinery, not us. We are now saying look, we'd like you to use this international standard called PackML. We'd like to implement PackML in a way that lets us do two things. First, connect your machine with someone else's machine in one of our packaging lines. And second, get information out of our packaging machines and into our MES systems so that we have better business visibility. We have several approved PLC suppliers that you may use. Just make sure that you implement it with PackTags according to the PackML State Model. Our goal is to avoid exorbitant integration costs and to avoid having systems that don't let us move data readily into the MES layer."
To learn more about the Packaging Automation Forum and the half-day training session covering Make2Pack and the Connect-and-Pack standards, visit www.packworld.com/paf. The early bird registration ends March 25.