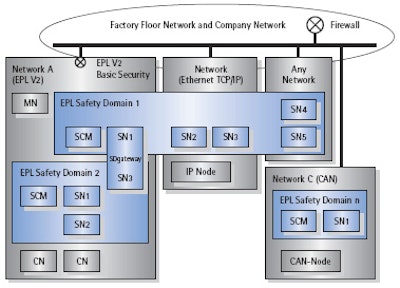 Fifteen years ago, the automation world faced a phenomenon known as 'fieldbus wars.' Instead of adopting a single standard worldwide, various automation suppliers developed their own digital networks, which we live with today – EtherNet/IP, DeviceNet, Modbus, Profibus, Profinet, Ethernet Powerlink and many more.
Today's big network development is safety, and this time around, there's an opportunity for a single standard – that can run as an open protocol on the application layer of your network of choice. That's a potentially huge advantage to almost everyone – to users of machinery, to device manufacturers, to machine builders – who must otherwise learn and support multiple safety networks.
Until recently, safety circuits have been hardwired devices – complex to install and with limited functionality. Then came the safety PLC. Now, the same network that controls the rest of the machine can provide communications for safety processors, safety devices, safety I/O modules and safe drives.
A potential global standard emerges
The Ethernet Powerlink Standardization Group (EPSG), the organization responsible for openSAFETY, announced at the Hannover Fair that it would put the protocol, in the public domain. And at the PMMI Safety Conference in Chicago July 13-14, B&R Industrial Automation will demonstrate OpenSAFETY as well as the company' full line of Ethernet Powerlink-based safety systems.
In addition to Ethernet Powerlink, EPSG has already implemented fully functional openSAFETY solutions based on Modbus TCP, EtherNet/IP, and SERCOS III, which will likely lead to rapid growth of the SIL3 certified safety protocol.
B&R to exhibit openSAFETY and sponsor PMMI Safety Conference
Robert Muehlfellner, B&R director of automation technology, will be on hand at the PMMI Safety Conference to answer questions about OpenSAFETY and B&R's safety technology. Muehlfellner is the foremost authority on these technologies in North America.
Tom Jensen, technology manager for the B&R packaging solutions group, will bring his packaging machinery application knowledge to bear on automation solutions incorporating safety.
As conference sponsor, the company will display its safety hardware, network topology and software development tools to machine designers and packagers attending to learn about the latest in regulatory compliance, best practices and technologies.
Click for more information on OpenSAFETY and B&R's safety technology.
The power of modern safety technology
In the past, an e-stop meant dropping out the power, which generates wear and tear on both the electrical and mechanical systems. It also means the machine stops at whatever point in the cycle it's in when the power goes out.
With B&R safety systems, drives can come to a stop under control, without a full machine shutdown. That allows various kinds of stops to be made, ranging from completion of the last cycle to a fast but gentle idle. The machine does not need to be re-homed and jams can be avoided.
With this intelligent, decentralized and integrated safety technology, it is also possible to respond more rapidly than ever and provide safety without necessarily stopping the production process. The company's SafeLOGIC processors perform safe configuration management, safe parameter management and safe application processing functions – central to the range of machine safety concepts.
Companies in this article