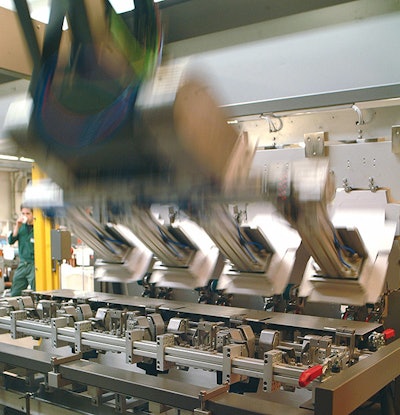 OEMs get green light from customers to leverage automation technology
It's a trend that innovative packaging machine suppliers everywhere will surely relish. Now they can become a full partner in more of their customers' packaging automation strategies. And they're free to excel by leveraging the controls platform that results in the best possible machine.
Before international standards took root packagers in the U.S. didn't seem to have a practical alternative to rigidly following an internal control specification. Now standards have matured and packagers are realizing both cost savings and productivity advances when they accept the best engineering advice of trusted machinery suppliers.
A perfect example of this trend is documented in Packaging World editor Pat Reynolds' recent interview with executives from The Hershey Company in the article Hershey's New Direction on Controls. Similar announcements are anticipated throughout the coming year.
Of course packagers aren't throwing the doors wide open rather they are accepting a short list of preferred suppliers that meet their business and technical criteria. Automation suppliers first need to demonstrate a global presence financial and platform stability conformance to international standards in programming and communications – and of course a demonstrable performance advantage.
Technology that's widely accepted outside the U.S.
With platform independence machine builders suddenly have more options. That includes embracing automation technology that's widely adopted outside the U.S. -- technology that U.S. machine builders are anxious to leverage as soon as their customers give them the green light.
For packagers it's about not forcing major redesigns that can inadvertently impair performance add hardware and engineering costs impact delivery and commissioning schedules and stifle innovation.
Ironically a good portion of the Fortune 500 have been accepting European packaging machines equipped with the OEMs' preferred solution for years. Why this seeming contradiction? The tongue-in-cheek answer is that the European sales people didn't know any better.
In reality the practice outside North America is to buy and sell technology based on performance rather than internal standards. That creates less perceived risk to adopting new technologies especially at the plant level. Some European builders did in fact invoke this experience and convince U.S. packaging machine specifiers to accept their machines unchanged.
After years of reliable performance these machines have earned acceptance. Along with them so have their automation partners most notably ELAU whose PacDrive automation technology equips $1 billion worth of packaging machines annually and is now installed in some 35 packaging machines worldwide.
Growing support from U.S. European packagers OEMs
Platform independence was clearly one of the motivators behind the current Make2Pack initiative and the OMAC Packaging Workgroup before it. Make2Pack which has been driven by Procter & Gamble and Pfizer among others has recently received endorsements from automation strategists at such U.S. icons as Coors (see related article Coors seeks OEMs who 'get it') and DuPont and perhaps surprisingly from European food giant Arla pharma innovator Novo Nordisk and brewer Martens.
Perhaps this European support should come as no surprise as among European packagers and machine builders modularity and international standards are the norm. The supporters named are also WBF Europe members some of whom attended Europe's first and second Make2Pack meetings in Brussels in October 2004 and at ELAU's headquarters outside Frankfurt in April 2005. (The next European forum is being hosted by ELAU at the IPACK-IMA show in Milan see the story Look who's specifying Make2Pack now).
Meanwhile the association for machine builders in the U.S. and Canada the Packaging Machinery Manufacturers Institute (PMMI www.pmmi.org) has taken notice of the trends the standards and the standards-bearers among automation suppliers (see the story Are you ready for lean design?).
As a result PMMI is reported to be opening a new category of supplier membership to qualifying automation suppliers for the first time. This closer working relationship can only help accelerate innovation.
(In Europe Italy's UCIMA and UK's PPMA machinery associations offer membership to automation suppliers while in Germany the VDMA does not allow membership in their packaging machinery division).
'Convergence' and 'generational shift'
It's all part of what World Batch Forum luminary Lynn Craig calls a 'convergence' of emerging standards all of which play key roles in connecting the enterprise and supply chain. These range from XML schema for communications between manufacturing and enterprise systems to the IEC 61131-3 automation programming language standard.
One of the driving forces is software modularity as ARC Advisory Group reports in Packaging Machinery Goes 'Mod'. Initiatives such as Make2Pack recognize that there are various levels of modularity. However object-oriented programming with ample use of IEC Function Block libraries and Sequential Function Charts stands in stark contrast to the prevailing U.S. practice of copying subroutines consisting primarily of ladder logic. Modular thinkers term ladder logic "monolithic."
Why is this significant? Simple. The majority of internal standards in North America were based on electrician's ladder logic for wiring relays. It's a language that has served its purpose for decades but its limitations have become obvious. As a result the growing acceptance of automation strategies that are truly modular promises what ELAU NA president Chris Zei called a 'generational shift' in productivity at PMMI's national meeting this past December.
How important is modularity?
The benefits of modular thinking go far beyond the efficiencies of modular software -- which are merely standard practice for programmers in the IT industry. Modular software lends itself to modular machine design agile factories and responsive supply chains.
Novo nordisk engineering for example has earned a reputation for its modular approach to bio pharm plant construction which is said to deliver a new plant in half the time which is a fast track schedule but without the 150% price premium imposed by fast track projects. That's a hefty competitive advantage for a pharma design build where time to market has a huge impact on profitability.
Just how big a trend is modularity? It has been predicted that within 5 years modular design tools will actually generate most of their IEC code behind the scenes. There would appear to be scant chance for a monolithic automation platform to adapt to such an environment.
Companies in this article