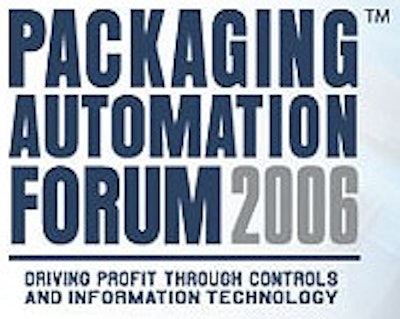 That much has become clear to me lately as I've emailed and phoned dozens of consumer packaged goods companies and packaging machinery builders to ask if they'll speak at the May 24 Packaging Automation Forum sponsored by Packaging World and Automation World (more on the forum later).
What I'm hearing in one conversation after another is that the ongoing shift to demand-driven manufacturing—as opposed to inventory-driven manufacturing—makes it increasingly important that the machinery on the packaging line be able to upload information automatically to a Manufacturing Execution System (MES), which in turn updates the company's Enterprise Resource Planning (ERP) system so that production orders being generated by the ERP can be based on up-to-the-minute information about packaging line availability and overall status. But this kind of P2B information flow is seldom possible without costly custom interfaces because packaging machinery has historically been what you might call a "standards-free zone."
The anecdotes I'm hearing are fascinating. For example, there's a major consumer packaged goods company that implemented a sophisticated MES initiative recently but wasn't able to integrate packaging equipment in the system. Why? Because the firm's installed base of packaging equipment was essentially lacking the tag-naming conventions and other standards-oriented components that are required in any MES strategy.
I also spoke with a brewer who wanted to develop what he called a "meta data base" in which all data from the plant floor could flow to a data historian so that asset care and maintenance could be improved and so that production on demand could be better managed. He knows the data he needs is in his packaging machinery controllers, but a lack of standards makes it difficult to access it.
As for the Packaging Automation Forum, if standards-based interoperability and P2B information flow are on your wish list, you may want to mark your calendars. Go to www.packworld.com/paf.