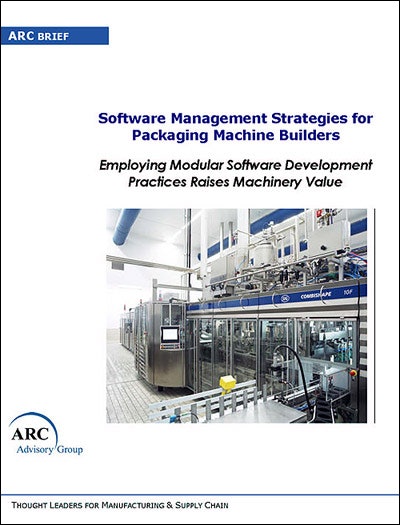 "Software Management Strategies for Packaging Machine Builders" ARC Advisory Group's latest packaging industry study offers practical advice on control software development techniques for packaging machines. Authored by senior ARC analyst and experienced controls programmer Sal Spada the report explains how a modular standards-based software strategy raises the value of machinery while reduces the Total Cost to Develop for OEMs and Life Cycle Costs for packagers.
The report goes on to provide useful examples of trendsetting machine builders who have successfully gone modular using IEC 61131-3 based software in some cases specifically seeking to fulfill the spirit of Make2Pack and OMAC initiatives.
To go mod the report defines specific engineering practices and attributes of winning automation supplier implementations of logical design process design deployment and architecture including Function Views and Programming Frameworks.
Benefits cited by ARC include faster machine deployment automation systems that mirror mechanical configurations reduced cost of software as well as machine maintenance and easier customization of machine capabilities. In addition it becomes easier to define user requirements and design to specification. Design is more consistent from machine to machine and validation cost is reduced. Operational modes and interfaces and data structures for both vertical and horizontal integration are standardized.
By special arrangement with ARC automation supplier and proponent of standards-based modular architecture controls ELAU is offering the report free of charge to packaging machinery builders and users.
Companies in this article