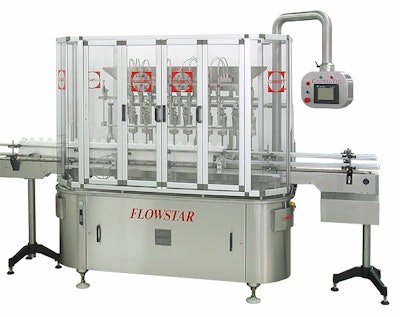 New piston filler from Capmatic is servo-controlled
New from Capmatic Ltd. servo-controlled piston fillers handle a wide range of container types without change parts. Depending on bottle gating and other factors speeds in the product family range from 80-150 bpm. The 12-head piston filler pictured was ordered by a major multinational pharmaceutical manufacturer.
Servos minimize cycle times
ELAU PacDrive servos control diving of the bottom-up filling nozzles. Ideal for speed control when filling non-symmetrical containers the servos can reduce speed as the nozzles reach the tapered tops.
ELAU servos also control the piston profiles allowing full profile filling once again filling rapidly then reducing speed to assure gentle product handling in the minimum cycle time.
Flexible simple changeovers
The combination of nozzle and piston servo control results in an extremely flexible system in which programmed recipes replace change parts.
Accuracy is an unprecedented +/- 0.2% thanks to the precision and repeatability of the PacDrive servo feedback and responsive control.
Easy to change and clean
For added flexibility interchangeable dockable filling systems allow changeover from the standard piston filling heads to mass flow metering to high viscosity filling heads.
The GMP design features sanitary piston pumps autoclaveable piston design pharmaceutical rounded threads and tri-clamp connectors.
All OMAC Guidelines built-in
Capmatic offers all the OMAC Packaging Guidelines for networking and programming on its ELAU-equipped machines including the PackML state model per customer request.
For more information on the new Capmatic servo filler visit www.capmatic.com or call 514 322 0062.
For more information on ELAU's PacDrive automation system please visit www.elau.com or call 847 490 4270.
Companies in this article