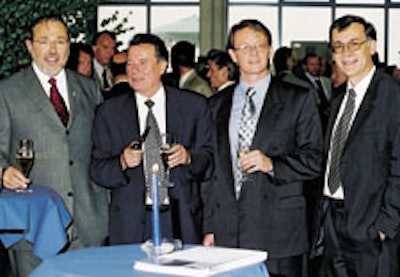 —New England Extrusion, Inc. (Turners Falls, MA) received final approval for a plant expansion that will begin in early fall, including a 45ꯠ sq' warehouse expansion and an addition to the existing production facility.
—Willett (London, England, U.K.) has opened a sales and service company in Istanbul, Turkey called Willett Ltd. Sti.
—Galil Motion Control, Inc. (Rocklin, CA) has moved its headquarters to 3750 Atherton Rd, Rocklin, CA 95765; phone: 916/626-0101, fax: 916/626-0102.
—KoSa (Houston, TX) will expand its packaging resin operations in North America and Europe by 360ꯠ tons per year.
—MacDermid Graphic Arts, Inc. (Atlanta, GA) announced a new, unified branding strategy for all its photopolymer printing plate products. Flex-Light® Products will include all sheet, liquid, water wash, and digital photopolymer printing plates and equipment.
—Diagraph® Corp. (St. Louis, MO) announced the addition of Xymark laser coding products to its line of small-character printing systems.
—M&W Packaging, Inc. (Jackson, MO) will change its name to Nordenia U.S.A.
—EVAL Co. of America (Lisle, IL) has expanded its Pasadena, TX, EVAL® ethylene vinyl alcohol resin plant, which will increase its production capacity to 23ꯠ metric tons.
—Grayling Industries (Alpharetta, GA) announced a $2 million investment in major equipment, process and facility improvements to its new 60ꯠ sq' mfg. plant in Juarez, Mexico.
—Artur Theis GmbH & Co. (Wuppertal, Germany) will open a facility in China.
—Outsourcing Services Group (Park Ridge, NJ) has consolidated its services into three divisions: Kolmar Laboratories, Inc., Aerosol and Liquid Packaging Div., and Unit Dose.
—Weyerhaeuser Co.'s (Tucker, GA) bulk packaging group has opened a SpaceKraft® plant in Salem, OR.
Companies in this article
Videos from Diagraph, An ITW Company