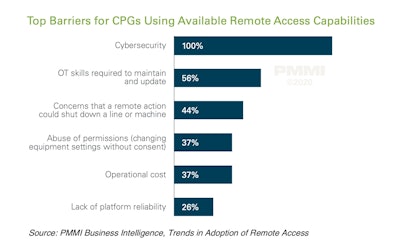 This was among the findings in a recent report from PMMI Business Intelligence called Trends in Adoption of Remote Access. CPG respondents indicated that the biggest barrier they face to using currently available remote access technologies is, unsurprisingly, cybersecurity, which was ranked by 100% of respondents as the top barrier. The next barrier—operational technology skills required to maintain and update the machines—while no less critical, ranks a distant second to cybersecurity, cited by slightly more than 50% of respondents.
Other factors contributing to CPGs' difficulties in overcoming these barriers include regulating OEM/vendor capabilities, using cybersecurity resources to identify possible solutions to allow access only when needed and restricting access to unknown/suspect sites, and working closely with personnel infrastructure to get engineers and IT to work together and leverage skillsets.
---
See it Live at PACK EXPO Connects Nov. 9-13: Turnkey Vision Guided Robotic Orienting, Top Load Cartoning and Wrap-Around Case Packing, by Cama North America. Preview the Showroom Here.
---
Considering the barriers that would challenge implementation of new remote access capabilities, CPGs cited organizational IT/OT barriers as the top factor, followed by complexity of the network, and the lack of practical guides of assistance for starting the process.
To download this free report, go here.
Don't Miss This Event
PACK EXPO Connects – November 9-13. Now more than ever, packaging and processing professionals need solutions for a rapidly changing world, and the power of the PACK EXPO brand delivers the decision makers you need to reach. Attendee registration is open now.