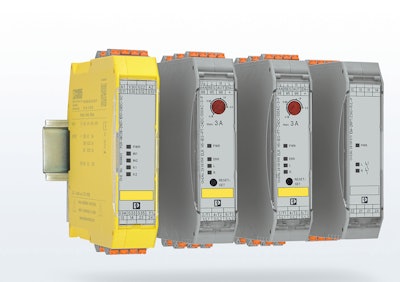 The auxiliary contact modules allow feedback of the motor state and implementation of self-sealing motor circuits. When used with the PSR-MC38 safety relay, the CONTACTRON pro can easily permit a SIL 3/PLe group of emergency shutdowns via one interface.
Like the original CONTACTRON, the pro modules incorporate Phoenix Contact's Hybrid Technology, which offers three-phase motor switching up to 5 HP. Compared with traditional contactors, it reduces wiring time and space by up to 75%. It has a service life of up to 30 million switching cycles, which is up to ten times the service life of electromechanical solutions.
The modular system and compact footprint make CONTACTRON pro suitable for conveyor and material handling systems, as well as machine-building applications like fan and pump control.