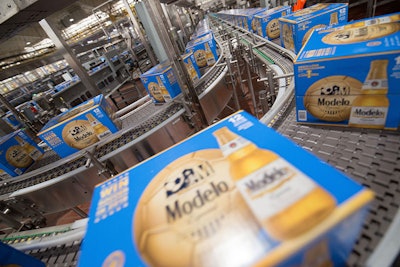 Longtime importer Constellation Brands Inc. (CBI) began brewing beer itself after purchasing Grupo Modelo's U.S. distribution rights in 2013 along with its sprawling brewery in Nava, Mexico. Under the terms of its acquisition, brewery operations had to be completely self-sufficient—without any assistance from Grupo Modelo—by June 2016.
"In addition to the deadline, CBI had to expand its annual production capacity from 8.5 million to 20 million hectoliters [225 million to 528 million gallons] in the same timeframe to meet anticipated market growth," says Chris Renken, vice president of manufacturing systems at CBI.
The plant's expansion strategy was straightforward but hardly easy. "As we were building, we had to keep the existing brewery running while making tie-ins to critical infrastructure such as water treatment systems, ammonia systems and power generation systems," Renken says.
Standardizing the network
To achieve all this required a network upgrade for the 885-acre plant as well—the existing network didn't have the segregation and availability needed.
CBI turned to Siemens Professional Services for Industrial Networks to consult on the design and implementation of the new network design, with the overall objective of optimizing availability and segmentation for the plant.
"Originally, the packaging lines, laser-guided automated transport vehicles and our high-density storage facilities operated on a single, flat Layer 2 network," Renken says. "Anytime we had a broadcast storm on the network or someone accidentally plugged in a loop, the entire packaging operations would be disrupted, with huge operational impacts to get back online."
The updated design includes three separate industrial plant networks for brewing, packaging and utilities. These control and operations networks feature 1 Gb fiber rings over Profinet using the High-speed Redundancy Protocol (HRP) to ensure network resiliency and availability.
Within those 1 Gb fiber rings are three layers consisting of a floor-level access network with Scalance XC-200 managed switches that interconnect to programmable logic controllers (PLCs), ET200SP remote I/O, WinCC servers and human-machine interfaces (HMIs). From there, the rings connect via Scalance 307-3LD managed switches to a higher-level data distribution layer. These layers then connect to a core layer that uses a Scalance XM-408-8C Layer 3 managed switch to link securely to the CBI plant-wide industrial core network.
Field commissioning for the new network design took only a few days for each area of the plant, according to the project team.
Besides the security, redundancy and scalability benefits of the managed switches, CBI also needed a system for overall network management and remote monitoring for all devices and equipment. The global brewer uses Sinema server software to manage more than 200 switches and provide visibility into the networks, including automatic topology recognition, 24x7 networking monitoring, and comprehensive diagnostics. Sinema can automatically detect all components in the network and map them topologically or in list form.
The network diagnostics at Nava are also integrated into the plant's WinCC HMI/SCADA platforms and can issue warnings and error messages via an OPC interface. Event logs and alarms are also captured for performance audits.
The rollout for the plant expansion at the Nava brewery happened in phases. The first phase added 10 million hectoliters (264 million gallons) of brewing capacity and included five packaging lines, with one capable of processing 4,000 cans a minute. All of the supporting utilities, including 18 MW of power generation, were completed on time in June 2016.
To accommodate the additional brewing capacity in the first phase, the plant expansion also included an expansion of the wireless network that supports 78 production and 48 shipping laser-guided vehicles (LGVs). At the Nava plant, 80 Scalance Wi-Fi access points, a mix of Siemens' W770 and W880 models, allow the company's LGV Traffic Manager to coordinate routes for each LGV and assign pick-up/delivery points.
With the updated network in place, the Nava brewery staff is trained and certified in managing this large, modern architecture and also can rely on Siemens Professional Services staff for consultation as needed.
"With its proven track record in setting up hundreds of large-scale industrial networking projects, Siemens took the risk out of our choice," Renken says. "We were confident they could help us design and deploy a standardized network model that could serve us, along with any future requirements."