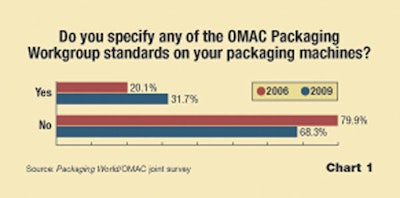 It's been three years since Packaging World and the Packaging Work Group of OMAC (Organization for Machine Automation and Control) teamed up on a survey aimed at better understanding the behavior of builders and buyers of packaging machinery where controls and integration are concerned. So this past June we sent a similar survey to essentially the same group of potential respondents. In comparing the results, three key findings emerge:
• Use of automatic data collection on packaging lines is on the rise.
• The percentage of machine buyers who say they specify OMAC Packaging standards on the machines they buy has gone from 20.1% to 31.7% (Chart 1).
• The percentage of packaged goods companies that have their packaging lines integrated with their ERP systems has more than tripled (Chart 4).
The last bit of data is one of those good news/bad news moments for OMAC technical director Dave Bauman. He was one of five packaging controls and automation experts who were asked to comment on key survey results.
"I'm pleased to see the percentage of those specifying OMAC standards has increased considerably, but we still have work to do to increase it further," says Bauman.
"Those numbers may indicate that customers buying machines are seeing value in the standards and so they are trying to push OEMs to follow the OMAC standards," says Mark Hanley, worldwide performance indicator program manager at Kraft Foods.
Frito-Lay's Rick VanDyke, senior group manager of FACTS (Factory Automation Control Technology Systems) for the Frito-Lay division of PepsiCo, says he's excited by the trend illustrated in Chart 1.
"We've been talking about it quite a bit, so it's good to see that it's starting to penetrate into the industry," says VanDyke. "The people who are going to benefit from the acceptance of such standards are the manufacturing and operations people. They're not the ones who understand the ins and outs of PackML or PackTags. The controls technology people are the ones with that understanding. But the business benefits gained by adhering to these standards will be enjoyed by the manufacturing and operations people."
Tropicana's Jeff Russell, TPM (Total Productive Manufacturing) coach for controls and automation at Pepsico America Beverages, has a slightly different take on the OMAC standards.
"These survey results would indicate that OMAC standards are starting to take hold," says Russell. "But in my particular case I have slightly mixed feelings about OMAC standards because with some machine builders—actually it's one large one that I'd rather not name—I can only get the OMAC standards as part of the machine package if I pay an upcharge. They have their own set of black box standards and they ship their machines with those standards that nobody can get into. It's an embedded PC-based controls system that they lock down so you can't get into it. Machine builders like that are driven by the belief that their proprietary technology gives them an edge. But it can cause real problems on the plant floor when something goes wrong and you have to have someone from the machine builder come in for a service call."
Representing the viewpoint of the machine building community, Douglas Machine's Joe Faust, electrical engineering manager, says the results captured in Chart 1 are pretty much in line with what he is seeing in customer orders coming in at Douglas.
"We do see OMAC standards being specified more often than in the past," says Faust. "I have to think that one reason behind this trend is that as of August 2008, the OMAC Connect-and-Pack standards of PackML and Pack Tags went from being mere guidelines to being an ISA standard. That brings some added credibility."
Faust also hastens to add that Douglas is not one of the packaging machinery builders that tacks on an upcharge when the OMAC standards are specified by a customer.
Data collection
Chart 2 gives some sense of how popular automated data collection has become. In 2009, 24.8% of end-user respondents said they have automatic data collection on more than 75% of their lines. That compares to 16.5% in 2006.
"I'm surprised the response didn't show even more widespread use of automated data collection," says Russell. "With the economy the way it is, I've been seeing a strong emphasis on improving equipment efficiency, and you can't improve efficiency without a data-driven focus."
Bauman was struck by the correlation between OEE (see Chart 3) and automated data collection.
"The end-user respondents that have automated data collection also tended to have much higher OEE," says Bauman. Like Russell, Bauman is surprised that so few respondents indicated that they have automated data collection. He also wonders why only about 35% of end user respondents—essentially the same percentage as in 2006—indicated that their packaging lines are networked together.
"This suggests that there are huge missed opportunities on many of today's packaging lines," says Bauman. "With the controls technologies readily available today, connecting machines in a networked fashion and collecting data automatically are not difficult things to do."
Connecting to ERP
The change most noticeable in comparing 2006 results with 2009 results is captured in Chart 4. It shows that the number of respondents whose packaging lines are integrated with an ERP system has more than tripled. Russell is impressed that the percentage of respondents claiming they have this kind of shop-floor-to-top-floor integration is as high as it is.
"I can't tell you how many of our plants I go to where we still aren't integrated enough," says Russell. "But we are getting better. We have a good partnership with our IT group established and we're building on that. Our goal is that by integrating IT and manufacturing we will be able to truly integrate the supply chain and packaging. The vision is that one day, IT will put in software, servers, and systems that integrate the customer order entry with the production scheduling system so that production scheduling can be optimized based on data coming from the plant floor. Automatically factored into production scheduling would be information on which packaging lines are or are not available for given production runs."
Faust concurs. "Inquiries about connecting the IT department with the manufacturing floor are increasingly common," he says. "Much of it revolves around Ethernet connectivity and things like how much bandwidth is going to be needed for automatic data collection."
For Hanley, the change reflected in Chart 4 shows just how data-driven manufacturing has become.
"We're increasingly driven by the need for access to information that will permit the business to be very agile," says Hanley. "The quicker the business has accurate data, the better equipped it is to make good decisions about how plants should be deployed. Line efficiencies, labor costs per line, shipping costs for products—all of this needs to be accessible if business planning is to be optimized. And remember, there are fewer people in today's plants to manually retrieve data or maintain Excel spread sheets. It's no surprise that more lines are integrated with ERP in 2009 than in 2006."
Bauman was impressed to see a tripling of the percentage of respondents indicating that their packaging lines are integrated with ERP.
"The other thing I noticed, and it surprised me a little, is that it wasn't just large companies indicating that they had this ERP-to-packaging-line integration. It was pretty evenly spread out over the large, medium, and small companies."
Machine builder Faust says that machine buyers' growing interest in having packaging lines communicate more effectively with ERP systems has brought about a change in Douglas's approach to machine design where communications protocols are concerned.
"Virtually all our system designs are now Ethernet based," says Faust.
At Frito-Lay, Van Dyke's response to Chart 4 is "Wow. I think it's a more significant metric, at least from an end-user's perspective, than the increase in percentage of end users who are specifying OMAC standards. I don't want to discount the importance of the OMAC metric, but if I see data showing that packaging lines are being successfully integrated with ERP systems, I'm impressed. It takes a lot of work and forethought to get to that level of integration. This kind of growth suggests that end users are getting serious about this kind of integration."
Two questions we did not ask in 2006 but added to the 2009 survey addressed training issues. When asked if the increased use of servo technology in packaging machinery has changed the way end users need to train plant technicians, 76.3% answered yes. Answers to a follow-up question on how this technician training on new technology is accomplished are shown in Chart 5.

Companies in this article