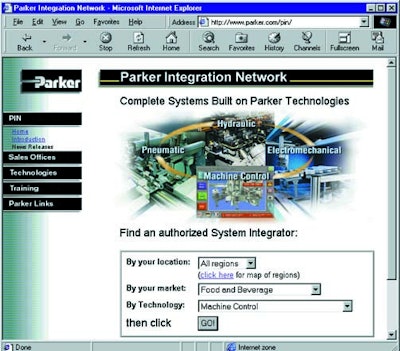 MotionShop.com is a multivendor Web site that provides extensive coverage of motion control technologies for motion control users at www.motionshop.com. Consists of an on-line directory of motion control suppliers that's sorted alphabetically as well as by product category. Also lists distributors, catalogs, trade shows and books.
Parker Hannifin's Parker Integration Network www.parker.com/pin consists of a searchable database of systems integrators that use Parker Hannifin's controls and machine components. The network is searchable by geographic region, market (food/beverage, pharmaceutical, etc.) and technology (machine control, man-machine interface, robotics, networks, etc.). Returns a list of companies that link to extended descriptions of their capabilities and markets.
Honeywell Micro Switch Div.'s (Freeport, IL) site features an application note library at www.honeywell.com/sensing/solution. Consists of a library of downloadable Adobe PDF files on applications for photoelectric, proximity, color, fiber-optic, ultrasonic, pressure, temperature and environment-sealed sensors.