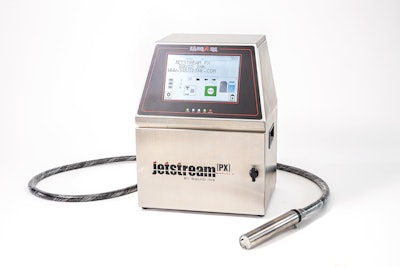 Squid Ink's JetStream PX pigmented ink CIJ printing system is designed to print quality small characters on a variety of substrates, including porous, non-porous, smooth, textured, curved, concave, and more. In addition, the JetStream PX pigmented ink printing system allows users to mark their products with white and other opaque inks that show well on dark-colored surfaces. As a result, the Jetstream PX is ideal for many industries and applications, including parts marking, extruded products, rubber, wire, cable, and more.
The JetStream PX is designed with a self-cleaning printhead with CleanJet™ that allows for quick and easy automatic start-up and shutdown. A button press sends the printer through a start-up cycle or flushes the system for shutdown. When routine maintenance is required, quick disconnect components can be swapped out within minutes eliminating the need to purchase expensive filter and pump assemblies or schedule costly service calls. To facilitate pigmented printing, an "Auto-Circulate Mode" automatically runs when the system is not jetting; a magnetic stirring bar inside the ink reservoir continuously mixes the ink, keeping hard pigments from separating and ensuring reliable inkjet printing.
JetStream PX offers users the latest in today's technology. The system's simple-to-use 10.1 in. color touchscreen interface features several options to help users make their mark on various products while streamlining their coding operation. JetStream PX's intuitive software allows users to print database messages straight from a USB drive and print messages with variable database information. Users can also select up to 16 quick-load messages for lines requiring quick message changeover. JetStream PX's onboard software lets users make changes to graphics by utilizing the system's onboard graphic editor for messages with graphic elements. With JetStream PX's intelligent system software, users can print what they want when they want it.
Changing fluids in the JetStream PX is simple and fast. Inks and make-up are poured directly into the reservoirs, and no mixing tank is used. In addition, no chips or RFID tags are used to lock users into a fluids hostage situation with the printer manufacturer.

Companies in this article