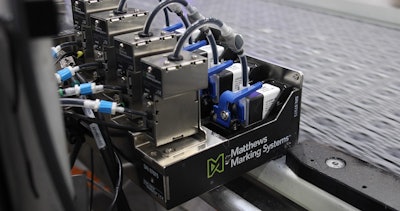 ABIS's unique auto-calibration and onboard sensors provide flexibility of setup, ease of operation, and high-performance printing. Auto-switching, dual ink supply allows uninterrupted printing; increasing productivity and uptime up to 30x over single-use cartridges. Additionally, a decrease in cost-per-mark with up to eight times cost-savings compared to single-use cartridges drives real value to the customer's bottom line.
Ray Fortuna, Global Product Manager for VIAjet L-Series thermal inkjet, says, "Current bulk systems in the market today are incapable of automatically adjusting for temperature variations, atmospheric pressure changes and printhead relocation, so when an application variable changes, competitive bulk ink systems fail by either not delivering enough ink or delivering too much ink which spills onto the production line.
With these challenges in mind, we developed the Active Bulk Ink System (ABIS) to be the markets' first truly smart bulk thermal inkjet solution. Onboard CPU's, pressure sensors and accelerometers constantly monitor system performance and make adjustments automatically to ensure optimal operation even as the environment changes. Matthews delivered a system that is unlike any on the market and now brings the high-quality TIJ mark to a price point and level of reliability not yet seen."
ABIS is powered by coding and marking manufacturer Matthews Marking's MPERIA®automation software, which centralizes control of marking and coding equipment. The MPERIA platform has an animated setup wizard for step-by-step installation and configuration, making ABIS simple for the end user.
Companies in this article