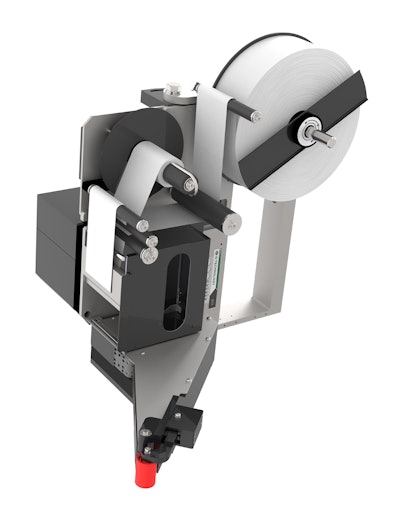 It can be equipped to apply side labels to cases, trays, shrink-wrapped bundles and other secondary packages. An optional "zero downtime" configuration speeds changeover.
"CrossMerge is a unique new concept for labeling secondary packages with GS1-compliant barcodes at very high speeds," said Mark Bowden, Regional Sales Manager at ID Technology. "Like other label applicator modules in our PowerMerge™ family, CrossMerge decouples print speed from line speed to simultaneously increase output and improve print quality compared to traditional tamp or feed-on-demand print & apply labelers. Now, with CrossMerge, we've rotated the print head to change the orientation of printing. It has all of the advantages of PowerMerge and takes it further, with even higher throughput and print quality for select applications."
By rotating the print head, CrossMerge optimizes the conditions for both barcode printing and label application. To produce well-defined edges and ensure the best scores when verified, the bars of linear barcodes run parallel to the direction of feed (called "picket fence" printing), rather than perpendicular (called "ladder" printing). Unlike traditional print & apply labelers that must produce linear barcodes in the non-preferred "ladder" direction to apply GS1-compliant labels in landscape orientation, CrossMerge prints barcodes in the preferred picket fence direction and applies labels in landscape orientation.
Rotating the print head also enables CrossMerge to increase output and decrease print speed to reduce print head wear and tear and further improve print quality. For example, instead of using 2x4 GTIN labels, which are 2 in. across the web and 4 in. long in the direction of travel, CrossMerge customers can use of 4x2 labels, which are 4 in. across the web and 2 in. long in the direction of travel. In this example, CrossMerge is able to dispense labels at twice the rate or slow the print speed in half to improve print quality and double the life of the print head. Furthermore, CrossMerge customers switching from 2x4 to 4x2 labels get twice the number of labels per roll and cut label roll changes in half.
Companies in this article