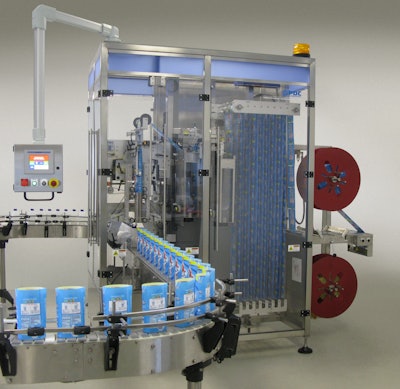 The R-250-ERT was developed on PDC's popular R-250 platform, a field-proven workhorse used worldwide by manufacturers and contract packers.
Like its predecessor, the R-250-ERT is a muscular system, built for continuous use. One feature that facilitates its virtually zero downtime capability is PDC's proprietary blade assembly. Designed as a heartier alternative to "spinning knives," this unique cutting assembly delivers precision cuts for months, rather than days, and is a formidable alternative to the fragile knife configurations often found in conventional sleeving systems.
Other features that support the system's 24/7 operation include a tool-less changeover feature and a splice-on-the-fly accumulator that allows roll changes without halting production.
The R-250-ERT is controlled with an Allen-Bradley CompactLogix PLC, Touch Screen and Servos. Available options include a barcode scanner with laser scan engine that reads 1D and 2D barcodes.
The R-250-ERT applies full sleeve shrink labels and tamper evident sleeves at speeds up to 300 containers per minute.
Containers can be filled or empty, and virtually any size or shape. PVC, PETG, OPS and PLA labels, in gauges as thin as 30-40 micron are all compatible.
The R-250-ERT is a heavy-duty packaging solution providing users with exceptional flexibility. Systems can be built with modules for vertical and horizontal perforations (important for consumer tamper evidence), and date coding. The standard sensor and verification package (which includes material-out and film feed jam sensors, and upstream photo-eyes) can be enhanced to identify jams downstream, fallen bottles, low air pressure and other anomalies, and provide detailed I/O and Production Monitoring on the HMI Touch Screen.
Conveyors and shrink tunnels (steam or dry heat) can be supplied as part of any R-250-ERT system.
Companies in this article