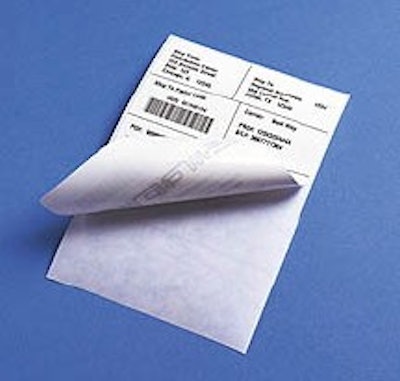 Now that EPCglobal has ratified the new Class 1 Generation 2 (Gen 2) protocol for radio-frequency identification (RFID), more companies will make serious headway in adopting RFID for the supply chain. Backed by its 10 years' experience in RFID, Zebra Technologies offers the following tips to help optimize the printing and encoding of RFID "smart" labels:
1. Select the appropriate tag type for your printer-encoder Matching the tag type and media with both your printer-encoder and your application is critical for RFID smart-label success. Data transmission rates, memory, antenna design and write capabilities are all areas that need to be evaluated to ensure the tag will perform appropriately. In addition, tag vendors may interpret specifications differently or add proprietary extensions that introduce needed or extraneous functionality based on the application. Ask your applications provider to recommend which tags work best with their offerings.
2. Pre-test small batches of RFID labels before purchasing in large volumes It is important to require that your label converter obtains transponder placement specifications from your printer-encoder manufacturer before producing smart labels for your application. Test samples or small batches thoroughly to ensure the labels meet your specification—and work in your application—before placing a volume order.
3. Store RFID labels at proper temperatures RFID labels should be stored at temperatures between –60? F and 203? F and in environmentally stable conditions. Exposure to electro-static discharge (ESD), which can affect tag performance, should be limited. Low-humidity environments may require the use of anti-static mats or clothing to help counter ESD.
4. Educate for label printing success Training your staff on the printer-encoder settings, features and special requirements of RFID technology in your particular environment helps eliminate potential RFID label printing errors.
5. Calibrate to ensure the printer-encoder will accurately program tags It is critical that the printer-encoder stores correct measurements of the leading edge and pitch (or distance between tags) before coding RFID smart-label media. Each time a new batch or roll of smart labels is loaded into the printer-encoder—unless it is specified to work on that model by the label vendor and the printer-encoder is set to those specifications—the labels should be calibrated on the printer-encoder to ensure proper alignment. Printer-encoders with an auto-calibration feature will help streamline this operation.
6. Avoid foil and metal-based media Metal reflects radio-frequency signals and is a leading source of RFID interference, so it should be avoided whenever possible. Labels that incorporate foil or metallic inks can prevent successful encoding and can severely limit read range.
7. Watch for liquids Water and other liquids are another hindrance to RFID system performance. Liquids can absorb radio-frequency signals and thereby limit range or prevent tag read/write operations altogether. Label media adhesives also can be an unexpected source of liquid. Some types of adhesive or label materials absorb moisture from the environment, which could cause performance problems.
8. Keep RFID equipment separated Interference may result if radio-frequency equipment is positioned too close together. Allow sufficient physical space between the printer-encoder and other radio frequency products that share the same bandwidth, such as antennas, readers, wireless LANs or even other printer-encoders.
9. Use printer-management software to alert for persistent problems Optimally, encoding and printing is completed in a single pass through the printer-encoder. However, it is not uncommon for an inlay not to encode on the first try. If you experience consistent failures, it may signal a larger issue. Incorporating a more robust printer and print-server management application in your overall RFID architecture can provide alerts that can help keep minor problems from causing serious consequences.
10. Place smart labels in optimal read positions on cases, pallets In a fully automated process, smart-label placement is key to ensuring that cases are accurately and consistently read. Label placement is determined by several factors including location of readers. Conduct label placement tests with existing readers to help identify where labels should be affixed on cartons to ensure top read rates.
Companies in this article