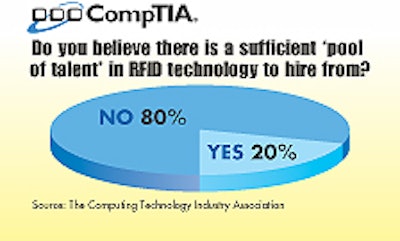 And while most companies can only be frustrated by the shortage of expertise, one forward-thinking company is already taking steps to head it off. Speaking at the RFID World conference in early March, Mike O'Shea, director, corporate Auto-ID/RFID strategies and technology, Kimberly-Clark, one of Wal-Mart's Top 100, noted that vendors and integrators were hiring most of the available RFID experts. K-C's concern is reflected by its proactive stance: O'Shea reported that the company is working with three universities to bolster RFID in its packaging curriculums. He cited K-C's efforts with the University of Wisconsin- Stout, Michigan State University, and the University of Texas.
A new study underscores the reality of the concern of O'Shea and others. The talent pool of individuals skilled in RFID is shallow and could affect the successful adoption of the technology, according to a new survey released March 1 by the Computing Technology Industry Assn. (CompTIA), a global trade association representing the business interests of the information technology industry for 20ꯠ members in 102 countries.
Eighty percent of companies participating in the survey said they do not believe there are sufficient numbers of professionals skilled in RFID. Exactly two-thirds of organizations said training and educating their employees in the technology is one of the biggest challenges they will face. The majority of survey respondents were value-added resellers and solutions providers (33.3%); consultants and systems integrators (21.6%); or manufacturers (19.6%).
In mid-March, CompTIA announced an industry initiative involving six organizations to address those concerns including RFID vendors Texas Instruments and Intermec, and The Association for Automatic Identification and Mobility (AIM Global), the worldwide authority on automatic identification.
Companies in this article