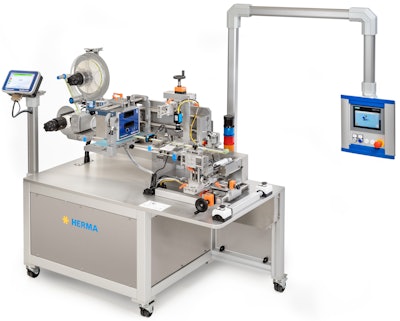 On display at the HERMA booth (the subsidiary of HERMA GmbH) is the ultra-compact HERMA 211 HC Wrap-around Labeler, a semi-automatic unit designed to meet pharmaceutical manufacturers' needs for an FDA-compliant labeler.
Capable of applying approximately 30 labels/min, the machine benefits smaller batch manufacturers and companies transitioning from clinical trials to full production.
"The idea behind the new HERMA 211 HC is simple: compactness that doesn't sacrifice accuracy or performance," said Peter Goff, CEO of HERMA US. "And as specialty medicines and limited-run biopharmaceutical products becomes increasingly prominent, the unit also meets the growing need for modest yet robust machines for smaller, highly precise batch production."
The HERMA 211 HC accommodates a wide range of cylindrical products including syringes, tubes, glass vials and ampules. It handles webs as wide as 80mm, and products ranging in diameter from 10-120mm.
After printing and inspecting variable information on labels, any defective labels are automatically rejected without being applied to the product. To prepare for labeling, product is placed into the rotating roller prism, then a pivot beak lowers and precisely applies the label, after which the product is removed manually.
Those who have printers compatible with the signature HERMA 400 Label Applicator take note: all printers compatible with the HERMA 400 range can be fitted on the HERMA 211 HC.
Companies in this article