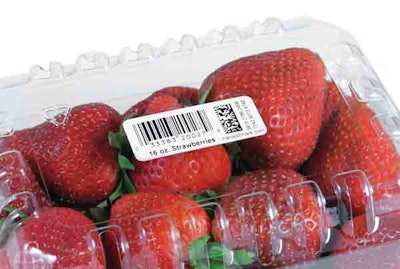 a 2-D bar code-based technology that provides instant unit-level traceability, at its Layton, UT, facility in June.
The base technology is provided by Corporate Express Document & Print Management (CEDPM), a subsidiary of Corporate Express (www.CorporateExpress.com), via a solution from YottaMark (www.yottamark.com).
Idaho Falls, ID-based Eagle Eye will use HarvestMark on corrugated trays of loose-packed produce including tomatoes, peppers, melons, and potatoes sold to foodservice accounts. The Harvest Mark technology provides instant traceability for its fresh produce offerings, according to Eagle Eye produce warehouse manager Mike Jacobson.
HarvestMark permits anyone, anywhere, to instantly trace fresh produce via the Web or cell phone from the home or store back to the specific ranch, field, and date on which it was picked. It provides unit-level, consumer-facing traceability for field-packed fresh produce and gives consumers confidence in, and information about, the safety of their food.
HarvestMark's unique, secure, and nonsequential codes are printed on conventional pressure-sensitive labels. The two key components that are imprinted are a 2D bar code and a human-readable numeric code. Both are printed via a variable-data ink-jet printer.
These labels can be applied to a variety of containers, including plastic clamshells like the one shown above. But in Eagle Eye's case, the labels are applied to corrugated trays. And because each tray has a unique code, it means instant traceability for each tray. All the foodservice operator need do is enter the human readable code at www.harvestmark.com. The data contained in the human-readable code is also in the 2-D bar code, so automated track and trace is also possible.
"We are pleased to have HarvestMark's instant traceability," Jacobson says. "We'll be able to trace produce all the way back to the original field where it was grown." Jacobson tells Packaging World the company began using HarvestMark in June, starting with one of its largest customers, adding that its education using the system continues.
Jacobson says that past attempts to trace produce really did not go down to the unit level. The industry mainly ran a paper trail, with physical marks stamped on clamshells, physical stickers, or ink stamps to identify where the field produce was being sourced from. It was not very efficient, since you needed to have someone apply a sticker at each stage, he says.
"The HarvestMark process is relatively easy and we do not lose time while we are packing on the line," says Jacobson, who indicates personnel are using semi-automatic hand-held label applicators.
Jacobson tells PW that the system is highly cost effective. "The cost is about a penny a container, which is well worth it."
Companies in this article