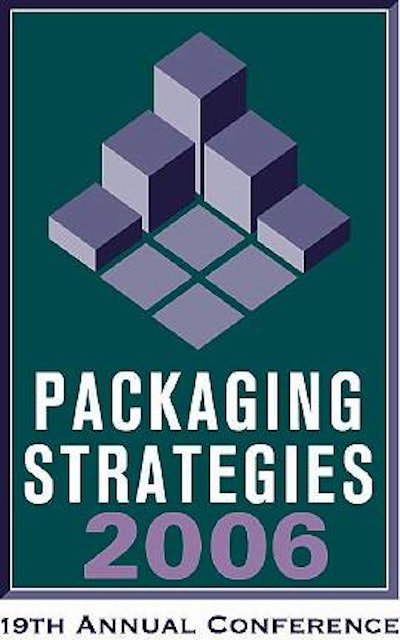 This latest "Summit Meeting of the Packaging Industry," the annual gathering of packaging thought leaders organized by Packaging Strategies, was held in late February 2006 in Ponte Vedra Beach, FL. Packaging World editor Patrick Reynolds shares his notes from the event.
When to "pack it in" against offshore competition
John B. Mahaffie, Leading Futurists LLC
His take on packaging professionals in years past has been that they were being told one thing: Do it faster and cheaper—or else. Now he thinks he sees packaging professionals being offered a more strategic role in shaping the business. He also stressed that as offshore manufacturing—China and India, in particular—matures, manufacturers in Europe and North America must get out of the commodities business wherever they can. Other speakers later in the conference echoed this advice on exiting the commodities space.
Beware the Chinese 'trap'
Tim Burns, Principal, Cranial Capital
He likened China to the Venus flytrap, an exotic plant that lures insects to its pistil and then slams shut on them. Western packaging machinery builders are lured to China by thoughts of cost savings and access to new markets only to have the trap door slam shut on them, in a manner of speaking, as their intellectual property is stolen right out from underneath them. "China and the United States in five years will not be on such friendly terms," he told the audience. His other observation about the packaging arena in general is that the days when plastic could replace glass and metal at will, which has pretty much been the case in the past few decades, are over.
Cross-functional involvement = superior outcome
Rebecca Oesterie, Manager Global Package Development, Energizer Battery Co.
When it comes to new product/package development:
• Cross-functional involvement at project inception will create superior outcome more rapidly.
• Involve vendors early and use electronic workflow. "Art and design information flow can no longer be done by people carrying things or shipping things around among the various stakeholders."
• Speed to market is crucial.
Treat raw materials strategically
Chuck Paulk, President, Intellabuy, Inc.
In his presentation on raw materials cost management, Paulk emphasized that if a company's supply management function is to be effective, it can't be treated as a support function that is basically clerical in nature. "To be effective in creating a competitive advantage, your efforts to manage your raw material spend should be as strategic as any other key functional area," said Paulk.
Paulk advised companies to ask themselves this series of questions as an exercise in comparing themselves with organizations that have successful supply management functions:
• What is your lead supply/purchasing professional's title? (Where supply management functions are successful, 60% of the time that title is Vice President).
• Who does your lead supply/purchasing professional report to? (Where supply management functions are successful, the lead supply/purchasing professional reports to one of the top five executive position titles).
• Has your supply management group's scope of involvement in Major Corporate Activities increased or decreased over the past several years? (It has increased at organizations where supply management functions are successful.)
"If the lead player in the supply/purchasing group isn't a dynamic, well-trained professional with an ability to sustain an ongoing quest for key market intelligence, a company's buying methods will not be successful," said Paulk.
Among the strategies he urged conference attendees to consider were hedging (through either forward buying or by means of financial instruments), gaining better control over contracts, participating in a buying cooperative or consortium, and broadening the number of suppliers to bring about healthy competition.
Innovative thoughts
Alan Isacson, President, ABI PR
Public Relations expert Isacson challenged conference attendees to realign their notions of packaging and innovation. "Packaging is not innovative," said Isacson. "Innovation is not about packaging. It's about giving brands the competitive edge. Innovation must be positioned as a business asset for brand owners."
Isacson also urged his audience to find ways to emphasize an innovation's campaign potential.
"The world has become smaller," Isacson concluded, "yet searches for innovations that grow business and build brands have become much greater and more urgent. How do your innovations give customers a competitive edge?"
Partner with machinery builders
Glenn Siegele, President, Omega Design Corp.
In presenting "The bottom line benefit of your OEM provider," Siegele represented not only his own packaging machinery manufacturing firm, but also the 504 members (as of last week, according to PMMI), of the Packaging Machinery Manufacturers Institute on whose board of directors Siegele serves. Siegele said that packaging machinery builders are evolving. "Expect in the near future to see a greater reliance on servos, more fully networked equipment, and enhanced performance reports," said Siegele. "Expect systems developers, not machine builders, and expect them to have expanded product and service offerings."
Perhaps more than anything, Siegele urged those in the Packaging Strategies audience who are buyers of packaging machinery to get the machine builders involved as early as possible in the new product/package development process. "The later you bring us in as supply chain partners, the more risk you run of failing to meet launch deadlines," Siegele observed. "Our goal is to deliver a complete systems solution across all aspects of packaging. Remember, partnerships are vital."
RFID's hidden ROI potential
Thomas Ryan, Principal, TKR Consulting Associates
That was the subject of Ryan's address. He first identified all the reasons why, to this point at least, nearly all the benefits of RFID implementation have accrued to Wal-Mart, while the manufacturers whom Wal-Mart has more or less forced into using RFID tags have gained practically nothing. This benefit imbalance, however, can be addressed.
"Now Wal-Mart is quietly making the promise of supplier benefit a reality," said Ryan. "It has had a supplier portal for some time that allows registered suppliers access to information about their shipments and orders. In the past several months, Wal-Mart has added a section that posts the RFID tag scans of that supplier's shipments.
"These scans occur for multiple transactions in Wal-Mart's processing of the movements of product through the supply chain. Specifically, scans occur at receipt into the DC, shipment from the DC, receipt in the 'backroom' of the store, movement from the back room to the retail floor, and placement of the empty container (with the RFID tag still attached) into the store's compactor. While making no claims that all tags are read at all places, Wal-Mart has made the scan results of these locations available on its supplier portal."
According to Ryan, creative packaged goods manufacturers should see the possibilities that this opens up for them. He sees these:
• Confirmation of a shipment/pallet/case being received at Wal-Mart. This can be used to preemptively deal with shipment shortages, delivery mistakes (shipment going to the wrong DC), carrier failures (didn't deliver on time), etc. It can also be used to challenge Wal-Mart's short-shipment claims.
• Visibility into product sales performance. The movement of cases from the backroom to the retail floor is more readily available through this means than is typical of most point-of-sale (POS) systems. It gives the packaged goods manufacturer timely (and time-stamped) information about how their product is doing in the marketplace.
• Support for replenishment programs. The consumption data can be used to help trigger replenishment shipments.
• Support of sales promotion programs. Using the consumption data, an innovative packaged goods manufacturer can craft promotion programs that can be used to sell more in targeted markets or to enhance sales of lagging products. The data can be used to assess the success of the promotions and to help win Wal-Mart's support.
"Packaged goods manufacturers can get RFID technology to work for them only if they rework the data value and look at it from their own perspective," said Ryan. Specifically, he added, they should look to these areas for places where RFID technology can help you reduce costs or mitigate risks:
• Identify channel diversions
• Prevent counterfeit goods from entering the supply chain
• Shut down gray marketers
• Expedite warranty, recall, and repair processing
• Identify bottlenecks in the supply chain
"You need to think strategically and act tactically to realize the hidden ROI of RFID," Ryan concluded. This is done in three phases, he said. First, make it a competitive advantage (improve quality, be consistent, mitigate costs). Next, use it to drive additional revenue (partner on replenishment programs, create effective promotions). Finally, leverage the infrastructure investment (asset management, security, service).
"RFID is an enabler, not nirvana," said Ryan. "Effective RFID application is about processes, systems, and technology working together. Be creative."
Companies in this article