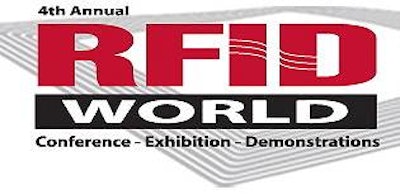 Enthusiasm about RFID's ongoing potential was tempered with a healthy dose of reality at the 4th annual RFID World event, held in late February at the Gaylord Texan resort, in Grapevine, TX, near the Dallas-Ft. Worth airport.
"We're excited to see the growth in end-user attendance and knowledge of RFID at this year's show," says Tim Downs, executive vice president of show organizer CMP Media. "The enterprise community is beginning to embrace RFID as a true solution instead of just rushing to comply with mandates. This year's show embodies a diverse industry that is world-wide in scope with attendees from South Africa, Asia, and Europe, among others."
The show continued its trend toward increased growth. Preliminary indications are that attendance was up about 30% over 2005 to 4ꯠ, and the number of exhibitors was said to reach 199, up from 130 last year. Word was that all the available exhibit space allotted was taken, and some potential vendors were not able to obtain space.
Attendees were another year smarter, too. One vendor contact observed, "Visitors were much more informed about RFID, their knowledge base is way up even from last year."
Sound bites
The following sampling of comments were from several speakers:
SAP director of solution strategy Krish Mantripragada, said "Raw RFID data by itself doesn't mean much, it must be put in context."
That was echoed by J. Kevin Brown, director of information systems of Daisy Brands, who advised the audience to "Plan what you do, otherwise you'll just have a pile of data." The sour cream producer was a Wal-Mart Top 100 supplier RFID volunteer.
"[RFID was a] personalized service to our customer to make it easier for them to do business with Daisy," he added. Brown was one of several speakers to note unexpected learnings from using RFID. Daisy found "voids of SKUS" where items were not kept in stock. He said that the RFID data "provides context" to permit invoicing as the truck pulls away from the dock. "We see future opportunities in temperature monitoring," he added.
Purdue Pharma's 60-day pilot of RFID-enabled OxyContin at the item level was summarized by Mike Celentano, associate director, supply chain and RFID systems. Done in conjunction with wholesaler H.D. Smith, the pilot's goals were to implement an RFID-based, manufacturer-initiated trial in a production setting with live orders done between PP's facility in Wilson, NC, and H.D. Smith's warehouse in Springfield, IL where the products were received and authenticated. The e-Pedigree software was provided by SupplyScape.
"We had fantastic reliability—only 10 to 15 bad tags out of 230ꯠ. We concluded that the fundamental building blocks for RFID-based serialized point-to-point e-Pedigree exists today," said Celentano, who indicated the company has an interest in case and pallet-level tagging.
Bob Berg, DHL's RFID global program manager, said the delivery company received quotes for an order of one billion RFID tags that elicited a lower-than-expected per-tag cost. And of course orders like this bring down costs for everyone. He also outlined lessons learned that are valuable for packagers, too:
• Focus on RFID strengths, not weaknesses.
• Start on data management and information technology quickly.
• Be prepared for new technology.
• Start small and build up—demonstrate to management RFID works and is useful.
• If you want a large ROI, change your processes.
Berg said it was conceivable that DHL would have 100ꯠ RFID readers in its system in several years.
Wal-Mart's future view: Sensors and wearable RFID
Wal-Mart's program was updated by Carolyn Walton, the retailer's vice president, information systems. She disclosed that the company was looking at wearable RFID devices that could read the tags as boxes are unloaded from truck. "What if our associates were alerted as they unloaded trucks to know that this box needs to go right to the store floor?" she asked rhetorically. Some 7ꯠ cases per day are organized, staged, and shelved daily at the Super Centers. Walton also noted the value of RFID combined with sensors. "Bananas are ripened in warehouses using nitrogen. What if a tag sensor knew how much nitrogen was needed? Bananas could be shelved at a Super Center in perfect ripeness, which brings value to customers and reduces waste."
Ken Reich, TAGSYS marketing director, revealed that Pfizer's item-level RFID program for bottles of Viagra manufactured in Amboise, France, features Web-based verification that permits pharmacies to authenticate the Viagra it receives.
Better news from the FDA?
As discouraging as the Food and Drug Administration's recent statements about RFID were in our recent report, FDA unhappy with RFID progress, the agency's Randall Lutter, associate commissioner, policy and planning, saw some silver linings. He reminded attendees that, unlike overseas, counterfeit drugs in the United States are quite rare, suggesting that the rise in cases in 2004 to 58 versus 30 in 2003 may be due to awareness. Final figures for 2005 will see a decline, he said, thanks to proactive investigations.
There was also encouraging news on the robustness of pilot projects. "The RFID pilots are so well advanced they should no longer be called pilots," Lutter offered. He suggested that a hybrid of RFID and 2-D bar codes could provide a viable solution until RFID is more universally adopted. "RFID and software can create a chain of custody from manufacturing to dispensing that would leave counterfeiters unable to sell their products into the supply chain," said Lutter. "Look for more pilot projects this year."
To read about some of the technology showcased by exhibitors, see An RFID World of technology.
Companies in this article