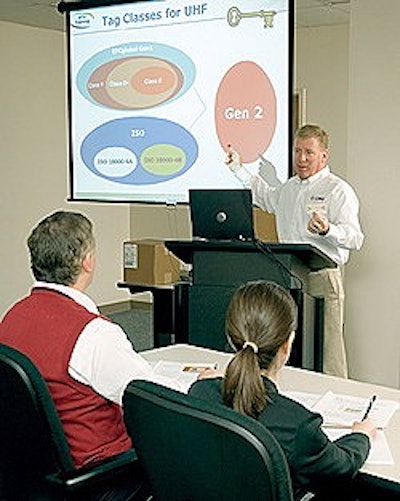 Lowry Computer Products, Inc. has set the dates of its first RFID Training session for technology implementers and end users. The first scheduled three-day class of A System's Approach to RFID Implementation(tm) will be conducted at Lowry's newly opened RFID Center in Brighton, MI, on February 1-3, 2006. OTA Training, developer of the curriculum, offers its courses at select RFID facilities across the nation.
"Lowry's new state-of-the-art RFID lab is a perfect venue to present our best-of-breed approach to training," says Robert Sabella, OTA Training's Founder and President. "Together we will be able to bring RFID training to all those throughout the region and beyond.
A significant advantage of OTA Training's RFID curriculum is that it is
vendor neutral. Those who complete the training programs in Lowry's RFID facility will learn about a full range of RFID products available from all leading manufacturers. Participants will perform extensive hands-on exercises and learn about various RFID tags, optimal tag placement on cases and pallets, read ranges, business process, data management, and all the essentials needed for a successful RFID implementation.
A System's Approach to RFID Implementation is the first of two classes offered to help participants prepare for and successfully pass the CompTIA® RFID+(tm) certification exam. The exam is anticipated for release in spring 2006. For more information visit www.lowrycomputer.com/training, and to register for the February class, click here.
Companies in this article