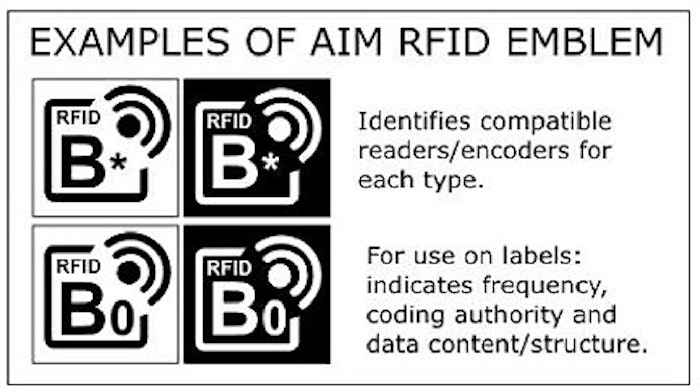 AIM Global, the trade association recognized as the worldwide authority on automatic identification and mobility, announced December 6 the RFID Emblem™ graphic and guidance document, which replaces the earlier RFID Mark™.
In response to recommendations from members of the international standards community, AIM Global's RFID Experts Group (REG) redesigned their earlier graphic. The RFID Emblem is a visual aid to workers to help them find and identify the presence (and type) of RFID tag in a label, tag or item. The emblem is also designed to identify compatible printer/encoders and readers.
The new graphic retains the same code structure of the earlier design, but adds "RFID" to the graphic. The graphic is a bolder, less technical, design that is still uniquely recognizable and easily reproduced by any printing, engraving or molding process. The graphic's name was changed to help avoid confusion about which graphic design was being referenced.
Emblem code decoded
The code in the Emblem identifies the tag's frequency and, where applicable, the standard or coding authority that governs the size, content and structure of data on the tag. With the anticipated proliferation of RFID tags and labels serving different purposes and containing different data, the Emblem will help workers quickly and easily identify the RFID tag to read in a given application.
The previous RFID Mark graphic is not to be used after the end of 2005.
AIM Global has trademarked the Emblem to protect its integrity. The Emblem is free to use by any party with the conditions that it used correctly and not modified in any way. In order to facilitate implementation of the RFID Emblem, complete graphics are available in four different file formats for download.
The revised document and graphics are available as a free download on this page on the AIM Global Web site.
Companies in this article