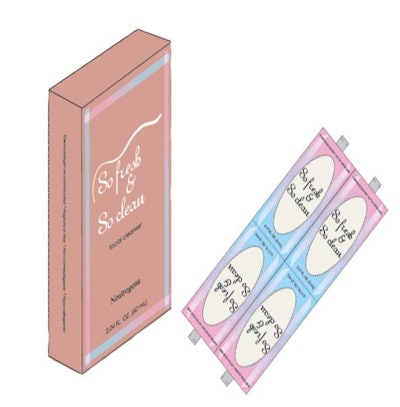 Packaging students from California Polytechnic State University, San Luis Obispo, CA, completed group class projects in June that involved developing packages and containers. This is part of a continuing series of exclusive reports that highlights the students' theoretical packages.
The group project was part of the university's Fundamentals of Packaging course. The students' own report is summarized in the following paragraphs. For those interested in further information, contact program director Jay Singh, Ph.D., at 805/756-2129 or jasingh@calpoly.edu. Also visit Packaging World's Web site resource page on packaging universities. The students involved in the So Fresh & So Clean project were Angie Lee, Ben Lawless, and Tiffany Mine.
Concept
When traveling, a person needs to pack the essential toiletries that the hotels do not provide. Face wash is usually one of those, though hotels do supply guest rooms with a bar of soap. Compared to a bar of soap, face wash is gentler on the skin. Why settle for the extra baggage or the dry skin from a bar of soap?
The solution is So Fresh & So Clean face wash in a small single-use packet. So Fresh & So Clean face wash packages are lightweight compared to a bottle of face wash. They are easy to carry for on the run traveling, in a suitcase, purse, or pocket, and are convenient to use anytime.
Features
Each package of So Fresh & So Clean face wash is small, making it perfect for traveling. A clear window on the back of the package permits viewing of the product and allows the user to see how many packets remain. The package is shaped with a tubular opening at one end to control the amount of face wash coming out of the package when it is squeezed. A tear perforation opening eliminates the need for scissors. The package is structured for one-time use so it can be thrown away after use.
Packet, carton details
The packets will be made of coextruded materials. The inner layer will be of high-density polypropylene because of its good moisture barrier properties and its economy as a moisture barrier. The outside layer will be clear PP because of its high gloss, clear labeling, and its suitability for print via four-color flexography.
Each carton contains 12 travel-sized packets of face wash. The face wash is packaged as a perforated "sheet" of four packets, three sheets per carton.
The carton is printed on a relatively thin paperboard substrate, made of kenaf (a tree-free resource) for a standard straight-tuck carton. It is printed using a four-spot-color process, with one of the inks (light blue) being a metallic ink. The front of the carton is vividly designed with the distinct name and logo of So Fresh & So Clean, and the quantity noted. The back of the carton contains information about the product, directions, and cautions. The side panels carry ingredient information.
The bottom of the carton is printed with a bar code. The carton and each individual packet are stunning, colorful, and in matching colors.
Marketing
So Fresh & So Clean face wash is a luxury item that can be found in grocery and drug stores. The main target consumers are travelers, especially those who like to travel light. Other target consumers are busy, on-the-run people who would like to maintain good hygiene. People can throw a package of So Fresh & So Clean face wash into their purse or pocket and are able to wash their face whenever and wherever they want.