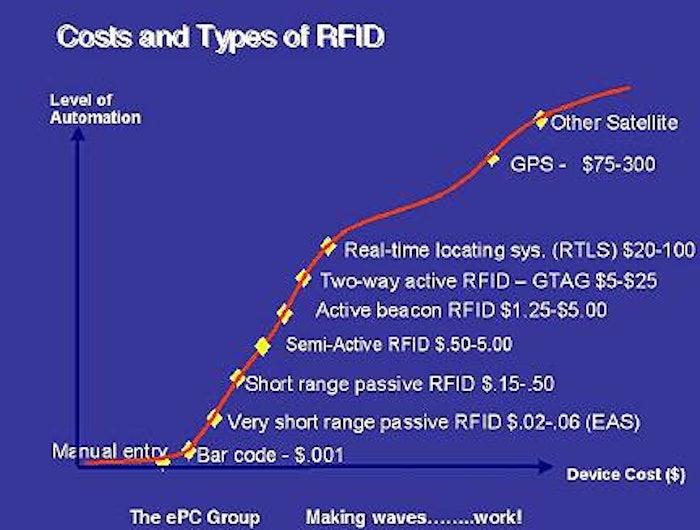 On Tuesday, May 4, in a theater for presentations located not far from the FMI's RFID (radio-frequency identification) pavilion in the south hall's southwest corner, Pete Abell, senior partner of ePC Group Ltd., spoke on radio-frequency identification. Abell, who has a background that includes leading Jewel Food Stores entry into bar codes in the early 1970s, told the audience in no uncertain terms that "RFID is coming."
Abell reminded his audience that RFID was not all about technology, but about solving real business issues. He pointed out that annual supply chain spending worldwide is $3 trillion dollars. With 6% to 10% of that waste, or $180 billion to $300 billion dollars, the lure for businesses to recover some of that waste is enormous.
He noted that Wal-Mart isn't the only company with an RFID deadline for 2005: DHL Worldwide Express is also mandating that all of its packages be RFID enabled. Notably, the efforts and commitment of the U.S. Department of Defense to RFID will help drive down costs.
Abell also itemized the current costs and types of RFID (see chart). In a separate PowerPoint slide, he summarized total costs at $1 to $2 million per warehouse, and annual tag costs at 15¢ to 90¢ per tagged item.
Abell also reminded us not to bury the bar code, figuring it may be around another 20 years.
His recommendations are as follows:
Establish global RFID policy.
Use professional RF engineers to assess problems and suggest solutions.
Do not do this just for Wal-Mart.
Make it work within your own four walls.
Look at you own supply chain for savings.
Establish behavior-change leadership--"most companies are not receiving executive sponsorship."

The company's Web site, www. epcgrp.com, also offers a presentation, entitled "Discovering RFID: An Executive Primer," in Flash format that you may also find helpful.

The ePC Group, which is dedicated to "making waves…work," describes itself as a global strategic and tactical advisory practice concentrating on successful, cost-effective design and deployment of RFID technologies.
Companies in this article