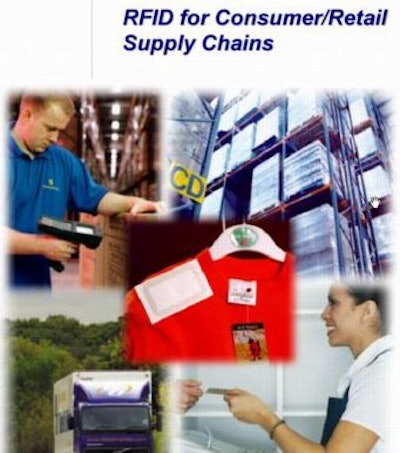 The 20-page RFID for consumer/retail supply chains white paper was published March 2004 by ChainLink Research. Written by president Ann Grackin, the PDF format white paper contains helpful information, including this grabber about the supply chain's mandate for end-to-end visibility: "Whether you like it or not, you will have to implement some kind of RFID strategy to stay competitive and meet [industry] mandates." That's followed by a listing of key mandates such as the "Cold Chain" directive that, besides trace and track, also includes logging temperature, expiration, and security issues. It also notes that CVS Corp. and Albertson's are getting into the [RFID] act along with Unilever, Procter & Gamble, and Hewlett-Packard.
There's also an interesting sidebar on Wal-Mart's RFID timetable. For example, "by year-end 2006, rollout RFID (case and pallet level) to all suppliers, at all Wal-Mart facilities."
Also, the company's monthly newsletter, Parallax View, in which the RFID paper appears, is claimed to be read monthly by more than 200ꯠ supply chain and Information Technology professionals. It features thought-provoking and actionable articles from the company's own analysts, top industry executives, researchers, and fellow practitioners.
ChainLink Research's mission statement is to provide manufacturers, suppliers, retailers, and distributors a thorough understanding of real-world implications, obstacles, and results for supply chain and customer relationship practices, processes, and technologies.
Companies in this article