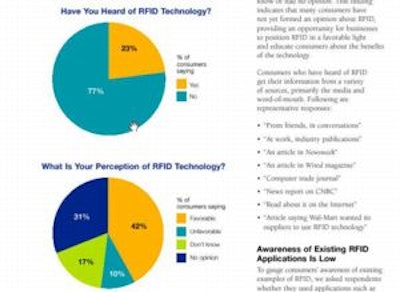 The Cap Gemini Ernst & Young Group has published results from a comprehensive survey of consumers' awareness and understanding of RFID. And their willingness--or reluctance--to buy and pay for RFID-enabled products.
Entitled RFID and Consumers: Understanding Their Mindset is available as a PDF format download, but does require filling out a registration form online. For those interested in the consumer angle on RFID, it's worth it. Conducted in October 2003, this study of more than 1ꯠ United States consumers examines consumer awareness and perceptions of RFID.
The downloaded survey prints as a 12-page document with several charts and graphs. Examples include Consumers Concerns Related to RFID, Factors Affecting Willingness to Buy RFID-enabled Products, and Importance of Potential Benefits from RFID. One fact that emerges: 77% of consumers have not heard of RFID.
The Cap Gemini Ernst & Young Group employs approximately 53ꯠ people worldwide and is one of the world's largest providers of consulting, technology, and outsourcing services.