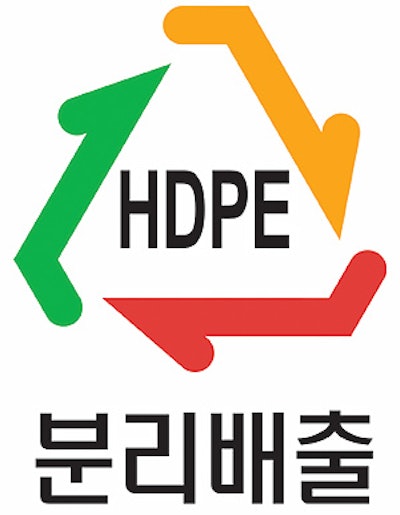 Raymond Communications recently issued a new report, "Green Labeling: Global Guide for Marketers in the New Millenium," 2003 edition.
It's getting impossible to get by with putting only one label on an international product, she points out. Although "about 15 European and Eastern European countries now have some sort of mandatory green label requirements, most accept some version of the SPI code with chasing arrows," Raymond says.
However, South Korea, Taiwan, Japan, and Poland now all have different green labeling requirements. South Korea's high-density polyethylene symbol (shown at top) requires a totally different triangle, with the words, "separate please" in Korean, while Japan requires a different set of symbols that include Japanese characters (shown), Raymond notes.
The report covers both voluntary and mandatory label regulations for the United States and 20 other countries. It also provides analysis of complex issues, such as the use of the Green Dot, and when and where green labels make sense. The report is priced at $250, or $180 for subscribers to RLI.
Companies in this article
Videos from Triangle Package Machinery Company