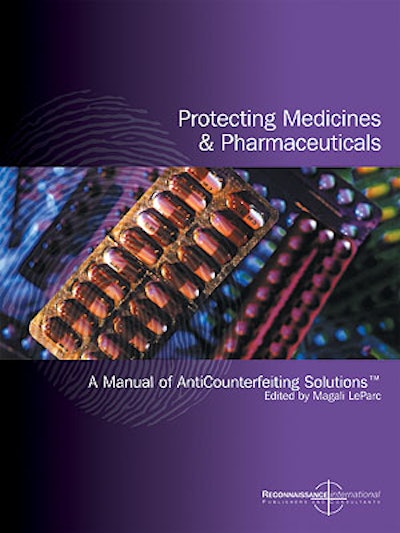 You have to question whether Protecting Medicines & Pharmaceuticals: A Manual of Anti-counterfeiting Solutions is really a book. Once you start looking through it, you get the impression it's more like a spiral-bound magazine with hard covers. In part, that's because when you open the cover, what greets you is an ad on the inside front cover. And more are sprinkled throughout this volume.
Although its definition may be in doubt, its contents don't appear to be. Edited by Magali LeParc, this volume is a terrific overview of a very complex issue for any company dealing with counterfeiting problems. It's published by Reconnaissance Intl., the newsletter publisher and conference organizer that covers authentication.
It's divided into four major sections, each with a variety of contributors authoring individual "articles" appropriate to that section. For example, in the first section on the impact of counterfeiting, one piece is provided by Geoff Power of GlaxoSmith-Kline in England. Another piece in this section is cowritten by Richard Puddephatt of Allied Domecq Spirits and Wine. Power and Puddephatt both make additional contributions in other sections of the book, while other participants include representatives of Pharmacia, the U.S. Food & Drug Administration, New Mexico State University and some associations.
However, much of the material in this volume is supplied by writers from vendors, several of whom are affiliated with advertisers in this book. While this cozy alliance may cause some concern about the value of these contributions—and I, too had some doubts—there were relatively few occasions where it appeared that articles were highly commercial. In fact, despite the advertising, the content here is probably stronger than the proceedings from many seminars and conferences. One telling difference is that Ms. LeParc's authors do include attributive copy that she calls "Endnotes" after many contributions.
And, in some cases, authors criticize their own companies. In Power's first contribution on illegal trading, he explained how his company makes Zantac™ easy to counterfeit. "The simplistic pack design used for many markets—round white tablets in gold foil strips inside a simple carton with solid two-colour printing—ensured that counterfeits would be easy to make, and more importantly, difficult to detect," Power wrote. Later, Power explained how GlaxoSmithKline created a corporate policy to first identify counterfeiting risk and then to take actions to minimize the threat to patients.
Section 14 in this manual relates to Packaging, Print and Design, led by consultant Sharon Carr. In her summary, she described a wide variety of materials and the technologies available to protect them. As solid as her discussion is, it loses some authority when it concludes with a sidebar from Westvaco Brand Security that's immediately followed by a Westvaco Brand Security ad.
Nonetheless, the anecdotes that are interspersed throughout the volume alone make it worthwhile. And its organization makes it easy to find the information about techniques, ranging from taggants and holograms to RFID tags and other technologies still in development.
Would it have been stronger without the "commercial" look. No question that the presence of ads throughout call into question just how much autonomy the editor might have had in selecting the various contributors. But is it a collection of "sell" pieces from its various advertisers? Not in any way I could detect.
And the appendices, including directories of organizations and author references, are valuable additions. Unfortunately, there are relatively few illustrations, so the most memorable visual images came from those full-page ads. Having said that, I wonder if, without them, the volume might never have been published.
Protecting Medicines & Pharmaceuticals:
A Manual of Anticounterfeiting Solutions
Publisher:
Reconnaissance Intl.
Author:
(various), edited by Magali LeParc
Specifications:
229 pages
Size: 8-½" x 11"
spiral-bound, hardcover
Price: $168
Published: 2002
Pluses:
Good, broad discussion of problems and technology solutions with some anecdotes.
Minuses:
Advertisements diminish feeling of authority, independence. Very few illustrations. Expensive.
Bottom line:
If product/package counterfeiting is an issue at your company, you probably need it as a reference.
Companies in this article