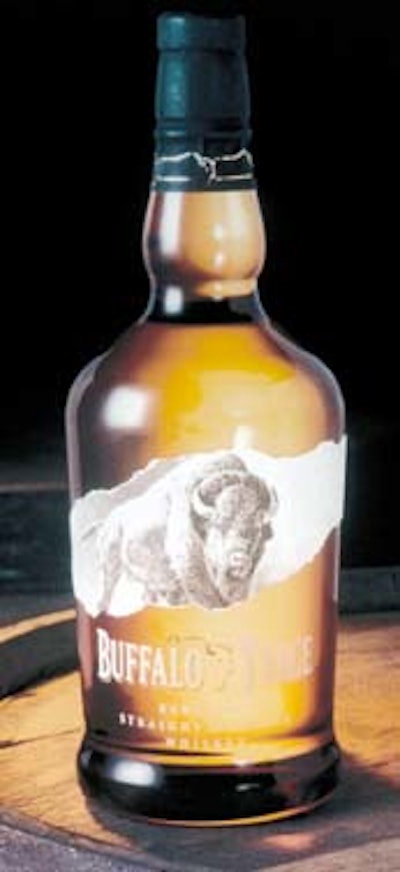 A label that looks like it's been torn out of a history book is perfectly appropriate for Buffalo Trace Kentucky Bourbon. A buffalo trace is a giant primitive highway formed by buffaloes as they traveled across land. The 227-year-old distillery in Franklin County, KY, was recently renamed Buffalo Trace because it's said to be built on one of these historic highways.
The line drawing of the buffalo was commissioned for Buffalo Trace's parchment-like label. "We wanted the package to have a sense of heritage and history, but [we didn't want it to be] dated," says Chris McCrory, brand manager at Buffalo Trace. "We wanted it to be a timeless package." On the market since August, the bourbon is sold at retail in 750-mL ($17.99), 1-L ($23.99) and 1.75-L ($33.99) sizes and is available only in Kentucky.
Spar Inc. (New Orleans, LA) designed the package, and Saxco Intl. (Horsham, PA) arranged for all the packaging materials. Front and back pressure-sensitive, 60# paper labels are offset-printed by Jonergin (Montreal, Quebec, Canada). The front label is in two colors; the back label gets three colors plus copper hot-stamping.
Permanent Label's Ceragraphic Div. (Hackensack, NJ) screen-prints the bottle in two colors, then sends the bottles to Permanent Label (Clifton, NJ) for labeling. Because the labels are applied from the same web, and because of the front label's unique angle, positioning the label on the release liner was a challenge. The front label couldn't be centered on the web, says Spar's Lane Casteix. "If we had left it [centered], the face label would have ended up right in the middle of the bottle instead of at the top. We had to place the [front] label higher on the web in relation to the back label," Casteix says.
Bottles are filled and sealed with a wood-stop cork and a tin capsule at Buffalo Trace.
In a hurry? Request more info via Web-based reader service by clicking on the reader service number.
Or you can jump right to their Web site if one has been listed
Companies in this article