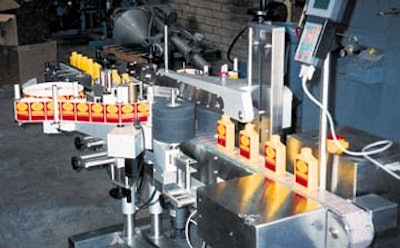 But that's precisely what he got with the installation of a front-and-back, pressure-sensitive labeler from CVC Technologies (Rancho Cucamonga, CA).
"We uncrated the labeler, plugged it in, and it did the labeling job beautifully," says Stanzel. "It's been running one year now, 40 hours a week, and we haven't had a single problem with it."
Labels applied to Alumaseal's 8-oz high-density polyethylene bottles are supplied by the Miles Co. (Tucson, AZ). Labels are 60-lb paper printed flexo in four colors plus varnish.
But it's the 400-C labeler, which replaced an older front-and-back labeler in Alumaseal's existing packaging operation, that Stanzel wants to talk about. Its rated accuracy is plus or minus 0.02", which, says Stanzel, is due largely to its SelfSet™ microprocessor control system. And with a rated capacity of 160 bottles/min, it has more speed than Alumaseal can utilize. As for ordering and delivery, it was a snap, says Stenzel.
"Other labeler suppliers quoted up to 10 weeks on delivery," says Stenzel. "CVC said, 'Send us a check and we'll send a machine in 48 hours.'"
In a hurry? Request more info via Web-based reader service by clicking on company name.
Or you can jump right to their Web site if it's listed.
Companies in this article