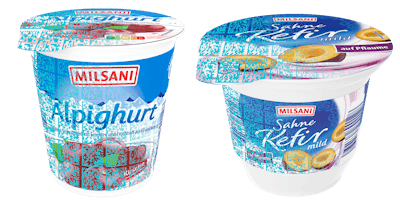 The Aldi South Group and Aldi Nord are taking part in the third phase of the HolyGrail 2.0 initiative, a program driven by AIM-European Brands Associations and powered by the Alliance to End Plastic Waste. Adding watermark technology to packaging, the company says, will help to improve sorting in waste facilities and boost recycling for a circular economy.
Digital transformation and collaboration are key to achieving Aldi's International Packaging Goals, and the brand says it recognizes the value of investigating and trialing innovative solutions that bring the industry closer to a transition towards a circular economy.
---
---
Yogurt with digitally watermarked packaging
In preparation for the testing phase of the HolyGrail 2.0 initiative, Aldi South and Aldi Nord have partnered with Digimarc and Wipak to print invisible codes called digital watermarks on packaging to improve sorting of materials upon collection at end of life. Aldi's suppliers, in collaboration with packaging converter Greiner, have ensured that 18 different Milsani kefir and yogurt flavors have been digitally enhanced with watermark technology. These products can already be found in Aldi stores across the German market.
The technology has been added to the surface of packaging to test an intelligent way to sort the materials, enabling high-quality recycling outcomes. The packaging will be detected and decoded by a high-resolution camera on the sorting line at the recycling facility, accurately separating the different materials to their corresponding streams.
Aldi spokespeople say they hope to contribute to this phase of the HolyGrail 2.0 initiative by testing the technical and economic viability of watermark technologies to improve material sorting. This trial will enable further investigation into the potential of watermark technologies as a driver of sustainable packaging. PW
Companies in this article