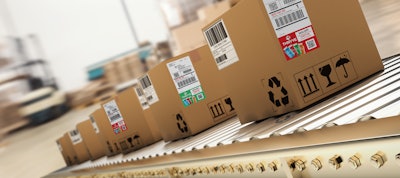 Epson unveiled at PACK EXPO Las Vegas its new Label Boost software, designed to give shipping operations a way to easily add color and dynamic content for what would otherwise be black-and-white shipping labels.
Label Boost software can help shipping operations—especially at healthcare brands—create secondary labels, such as regulatory or shipping-and-handling labels. It can also be used to highlight critical information, such as parcel count or expedited shipping for accuracy and timeliness of delivery.
Other applications for the software could be coupons, targeted ads and secondary labels. Adding such dynamic content to shipping labels helps users create new opportunities for their businesses to leverage shipping labels for marketing, while reducing material and labor costs and streamlining operations, says Epson.
"Booth visitors were excited to learn how Label Boost can help them grow their business and reduce operational costs," says Tessa Kohl, product manager of DX Solutions, Epson America, Inc. "Label Boost was one of many products at Pack Expo that showed how Epson offers not just excellent standalone hardware, but full solutions to meet current business needs."
Kohl says that at Pack Expo, visitors came to the Epson booth in search of ways to engage customers with branded content. They also needed to streamline processes for tasks such as applying hazardous material labeling. As Epson Label Boost combines compliance labels and shipping labels into a single print-on-demand label, it can help reduce costs, streamline workflows, and improve quality for shipping operations, says Kohl.
"Today, supplemental warning stickers often need to be selected and applied by hand," says Kohl. "Using Label Boost to automate the label selection and integrate it into the shipping label can help reduce the risk of incorrect labeling caused by human error."
During the show, Epson also highlighted its new ColorWorks CW-C4000 and C6000 Series, which integrates with Loftware's NiceLabel Cloud platform, offering businesses convenience and efficiency for printing directly from NiceLabel Cloud to Epson ColorWorks cloud-connected printers.
"Businesses can now harness the benefits of the cloud to streamline their label printing processes – all without the need for a locally connected PC," said Andy Scherz, product manager at Epson, in a statement released just prior to PACK EXPO Las Vegas. "This one-step cloud-based solution redefines print efficiency and elevates user experiences."
This cloud-enabled printing system offers significant benefits, especially for industries bound by international labeling regulations, including as chemical (GHS), medical device and pharmaceutical, says Epson. The package is designed to help businesses significantly reduce their dependence on IT resources, minimize print errors and unlock the benefits of full-color label printing, leading to a reduction in costs and inventory of pre-printed labels.
Companies in this article