A 35-year-old print house specializing in direct mail and various marketing and promotional materials, Spectrum Printing Co.has been taking advantage of digital printing and finishing technologies for some time now. But the 2020 installation of an Impremia IS29 sheetfed inkjet digital press from Komori opens up attractive opportunities in packaging, cartons to be specific.
"Prior to the arrival of this Komori press, I'd say we dabbled in packaging," says Ken Huizenga, Operations Manager at Spectrum. "But we were limited to 13 x 19 inch sheets, which is just not the most practical way to operate."
The IS29, Huizenga points out, handles sheets measuring 23 x 29 in., usually referred to as B2+, at 3,000 sheets/hr single-side or 1,500 double-side. Sheet thickness can be anywhere from 18- to 24-pt, and moving from one thickness to another is easy, says Huizenga. Another thing Huizenga greatly appreciates is the IS29's use of UV-cured inks.
---
| | |
| --- | --- |
| | For a video illustrating the IS29, click here. |
---
"Not only is it super durable, it's instantly dry, which means we can move quickly into finishing operations like scoring and cutting," he says. "Plus the colors are consistently dead-on. I'd say 75% of the Pantone book can be achieved within a Delta E of 3 or less, which is pretty amazing." Delta E is a standard measurement, created by the International Commission on Illumination, that helps quantify the difference between a target color and the color that actually gets printed.
The carton used by Scottsdale, AZ-based Mental Mojo for a dozen 4-fl-oz bottles of its brain boost supplement is a good example of the kind of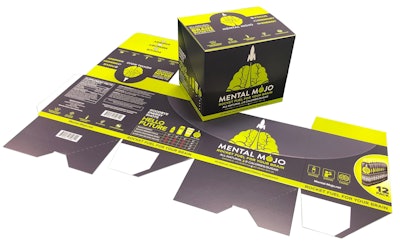 packaging Spectrum can produce with the Komori press. "They came back to us maybe five times with modifications to the design," says Huizenga. "Each time we were able to produce just one or two sheets of 24-pt board for them so they could touch it and look at it and decide if it was really the carton they wanted. That kind of flexibility just isn't possible with offset presses."
Huizenga believes the IS29 will bring new business to the firm because most converters are reluctant to accept orders smaller than 5,000 cartons. For startups or smaller firms like Mental Mojo, 5,000 cartons is a huge commitment. By tapping Spectrum as a source for far smaller runs, companies like Mental Mojo have a chance to get launched and then grow. And once they gain some traction, they can stick with Spectrum for larger orders produced efficiently on an offset press. In all likelihood, they'll also try a new product in small quantities in cartons that Spectrum can produce efficiently on the Komori digital press.
"The amount of packaging we're doing now isn't yet all that much higher than it was before the IS29 was installed, but we can produce packaging for a lot less money," says Huizenga. "In the past if we were doing a modest run we'd have to go two-up on an offset press. And all those plates would have to be bought and all that extra substrate too. So I expect six months from now the percentage of our production that is packaging will be considerably higher."

Companies in this article