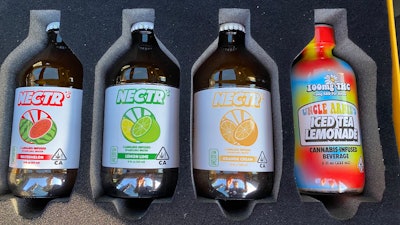 As many national beer and spirits brands are pivoting to hard seltzer, soda, and lemonade, premium cannabis-infused beverage co-packer and contract manufacturer Spacestation, Woodland, Calif., is staking its own claim to the space with its in-house Flybeverages brand. But instead of alcohol, Flybeverages' drink varieties—including Nectr seltzers, Matt's High Sodas, and Uncle Arnie's Iced Tea Lemonade—contain between 10 and 100 mg of tetrahydrocannabinol (THC) in each 11-oz "stubby" or 8-oz Boston round glass bottle.
Flybeverages' seltzers and sodas aren't the only focus for Spacestation, of course. Other THC-infused beverage formats commonly produced at the facility include traditional carbonated drinks, teas, and juices. Meanwhile, newer on-trend product lines include an 11-oz kombucha drink, a non-carbonated shot product in a 2- oz. container (think 5-hour ENERGY, but with THC), and even a line of frozen popsicles called Ding-a-Lings. Spacestation has set itself up to be a one-stop shop for emerging brands to get their THC beverages to market.
"We have a legal-cannabis license in California, and we are under full compliance," says Matt McGinn, Co-Founder of Spacestation. "We can do anything with THC or CBD as long as it has gone through the legal supply chain, and it ends up at the legal supply chain. We're a lot more than just a co-packer in the usual sense because traditional beverage co-packers just pack the liquid. We handle all the elements of compliance for the product, the packaging, and the hurdles in getting your cannabis-infused drink to market. Regulations are really complicated in the THC cannabis space. We walk emerging brands through the whole path and get them from start to finish."
More recently, the company received its type 11 Distribution license for distribution of THC-infused products, which allows them to provide COA testing, quarantining, and finished product warehousing. Spacestation is also primed to facilitate it's brand's and client's final mile distribution. Spacestation Distribution, also located in Woodland, Calif., occupies 13,000 sq ft.
Automating THC sodas and seltzers
As a contract packaging/contract manufacturing (CP/CM) beverage operation that's also juggling its own in-house brands, Spacestation has to balance between flexibility and volume. That's where packaging automation comes in. Beyond stubbies and Boston rounds, the company's filling lines handle glass or PET bottles from 30 to 236 mL, glass or PET wine bottles up to 750 mL, and 7.5- to 12-oz sleek cans. [Article continues after video below.]
The first fixture on the packaging line is a Can-I-Bus depalletizer by
Ska Fabricating
, a packaging line equipment manufacturer out of Durango, Colo. The company's signature Can-I-Bus depalletizer moves empty cans from pallets, rinses away impurities with customized twist rinse cages, and carries cleaned cans and bottles via custom conveyance throughout the filling, sleeving, date coding, labeling and cartoning processes on the line that Ska Fab designed specifically for Spacestation's quality control levels. Ethan Deffenbaugh of Ska assisted McGinn with the conveyance system as well as the depalletizers.
For filling, Spacestation employs a 55-can/min six-head can filler from Wild Goose, plus a separate line equipped for the 2-oz shots. But for Spacestation Kombucha, Matt's High Soda, and Nectr Seltzer, McGinn uses a counter pressure filler and capper from Meheen, which has recently merged with Wild Goose. Nectr seltzers in the 11-oz stubby glass bottle use a metal-crown, child resistant closure, required for cannabis compliance. Uncle Arnie's Iced Tea Lemonade, under the Matt's High Soda brand, is filled in an 8-oz Boston round, with a child resistant, resealable medicine cap that's also compliant.
After filling, plus some conveyance and drying via air knives, it's time for decoration. The company is equipped for traditional application of glue-applied or pressure-sensitive labels to glass bottles. But for in-house brands, as well many private-label and CP/CM projects, Spacestation and Flybeverages eschewed p-s labels in favor of a full shrink-sleeve label system that McGinn says can easily swap from SKU to SKU. Plus, the shrink film is able to overlay and enclose the closure at the top of each bottle, adding further tamper evidence for compliance.
McGinn selected the LX 100 shrink-sleeve label and TE band applicator from American Film and Machinery (AFM) shrink sleeve labelers, part of the Engage Technologies Corp. group of packaging machinery builders. McGinn says this rollstock-fed machine, designed for middle, full-body, and full-body and cap application via mandrel-formed sleeves, is the heart of the packaging line.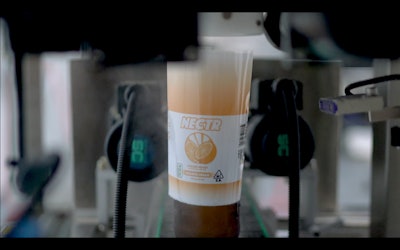 Though by big-brand standards, the system is an economy-level shrink applicator, the servo-driven, PLC-controlled LX 100 shines in efficiency, compactness, and washdown capability. Like many CP/CM facilities, Spacestation requires shorter, slower runs due to SKU variability. While the LX 100 is named for its throughput of 100 sleeves/min, remember upstream fillers max out at about 40 bottles/min, so there's room to grow into the system. Flexibility was another key selling point.
"When we ordered the machine, we made sure that the range of mandrels, when modified or changed over, could cover our entire range of container form factors," McGinn says. "We'll get a new mandrel for every new format, and the LX 100 is a great machine for easy changeover, [it takes] less than 30 minutes for a new mandrel and a new roll. We will probably buy a second LX 100 in 2020 to keep up with demand, as we have doubled our facility's size and created two additional production lines."
Immediately downstream of the LX 100 is a WSN-100 series steam heat tunnel, also from AFM.
"That system is definitely one of the key mainstays of our facility," McGinn says, "Through those two pieces, we can shrink wrap any unit that we offer. And I've built all my lines to be connected so they all go through the same shrink-label applicator and steam-tunnel system."
McGinn initially selected this steam-tunnel model because it's one that is capable of generating its own steam from a single water source—he didn't have to buy an accompanying boiler.
"When we launched Spacestation, we were on a tight budget, so we bought equipment that worked within that budget, and we wanted to avoid buying a boiler. We saved tens of thousands [of dollars] by using the WSN instead of having to buy a boiler.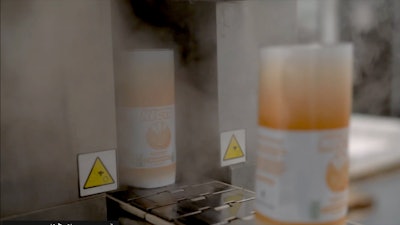 Then-fledgling Spacestation was tight in terms of space, and the prospect of having to retrofit gas lines to accommodate a boiler was another nightmare on a tight budget. That made the boiler-free shrink-tunnel option a perfect choice for the initial go-to-market product lines. Spacestation has since brought in a boiler for generating 200°F water temps for equipment cleaning, but the steam tunnel operates from a standard water connection.
Each shrink-wrapped stubby or Boston round bottle is marked on a Squid Ink five-line date coder, another Engage Technologies company on the line.
"I used AFM at my previous company, which is a co-packing company in the coffee industry. When I moved out here to California to start Spacestation, I had experience with these vendors and got connected to their sister companies and so forth so I knew I could trust them.," McGinn says. "This helped to expedite the process, reducing our time to market. I just asked for their recommendations and got referrals, and I was impressed. The Squid ink printer is versatile and allows us to date code with five lines. We can fit all of our compliance coding on the bottom of the eight- and 11-ounce bottles."
Ink-jet coding is done in yellow ink on amber bottles and with black ink on clear flint bottles. Carefully regulated cannabis products like the ones Spacestation produces require a best by date, the manufacturing date, a batch-specific unique identifier number, and potency by metric of milligrams THC and milligrams CBD per bottle.
"Even if the drink has zero milligrams of CBD, we need to mark it as zero milligrams CBD," McGinn says.
After coding and marking, glass bottles go into a four-lane carton erector and cartoner, the Brewsky 100, from Design Machine & Manufacture. Each carton contains a dozen stubbies or Boston rounds, and two 12-pack cartons are hand-packed two to a tray for 24-unit trays. Palletization is done by hand.
Perfecting cans
Unlike the Flybeverages' glass bottle output, nearly 90% of Spacestation's CP/CM work goes into cans these days. That wasn't always the case. The company faced early challenges with the polymer liners within aluminum cans and noticed a leeching effect that drew the cannabinoids (THC, CBD, active ingredients of cannabis) out of the liquid solution.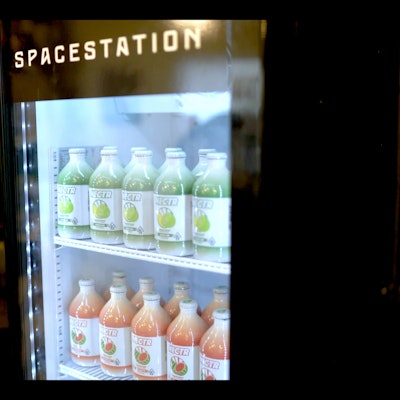 "Since we encountered those problems early on in 2019, we have since solved them." McGinn says. "We know how much of the cannabinoids are lost from the cans, we know which can liners work the best for preventing cannabinoid loss, we know which kind of liquid interacts with each can liner, and even today, with supply chain disruptions around COVID-19, we are able to maintain our supply of the right kinds of cans for this application."
Virtually all the cans used for its CP/CM business are brightstock that run through the AFM LX 100 for shrink sleeve application. The company has less frequently used semi-automatic equipment for p-s labels, but the shrink-sleeve applicator and heat tunnel are always running, McGinn says.
Expansion plans next
Spacestation ramped up its CP/CM business and is creating increased, additional capacity for its Flybeverages brands. That's why the shrink-sleeve, steam-tunnel, and case-packing equipment is all built to accommodate up to 100 units/min, despite the 55-unit/min filling and capping lines. At present, the Spacestation CP/CM business is at capacity—it's not taking on any new clients—and the Flybeverages business is growing. As mentioned, a second AFM LX 100 shrink sleeve system is in the works at the moment, but that's just for California production (product cannot currently cross state lines). The company has designs elsewhere, as well.
"We're looking for investors," McGinn says. "We're growing rapidly and need a cash injection to keep up with our sales velocity. It's crazy to see the demand for legal cannabis beverages, and COVID-19 has only increased our demand. Flybeverage is an emerging brand with proven products, so we're raising money and looking for investments for our brands. Our demand is up more than four times what it was pre-COVID-19, so it's time to scale." Flybeverage is aiming to raise $5 million dollars investment over the summer of 2020. -PW
Companies in this article
Videos from AFM - American Film & Machinery