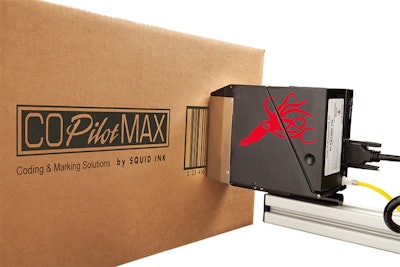 A new printing system designed to print superior-quality, 360 dpi-resolution characters on porous surfaces, the CoPilot Max made its debut at the Squid Ink booth at PACK EXPO Las Vegas. The printer features up to 2.8 in. of print height per printhead and the ability to run up to two print heads from one controller.
The CoPilot Max uses Squid Ink's active ink system, which allows users to raise, lower, tilt, or rotate the print head without making height adjustments to the ink supply. The system prints hi-resolution characters, "razor-sharp" text, scannable barcodes, and logos at 360-dpi, which Squid Ink said is nearly twice the resolution of competitive printers in its class. Added the company, "Squid Ink's proven library of inks for porous substrates offers ultra-low maintenance performance, eliminating the need for auto-priming functions and offering better ink utilization than competitive systems."
Other features include a durable touchscreen, industrial-strength print head construction, and simple active ink delivery. The CoPilot Max features a 500-mL no-mess snap-in cartridge that Squid Ink said allows users to swap ink cartridges "in a matter of seconds."
The full-color touchscreen gives users access to the system's internal messages and print functions. Messages are created and edited on Squid Ink's Orion™ PC software and transferred via USB, Ethernet, wireless, or optional Windows tablet. The tablet is recommended for users that want message creation and editing functionality on the production floor. For larger applications, an unlimited number of CoPilot Max printing systems can be connected via Ethernet or wireless network and controlled through one central Orion PC.
Companies in this article