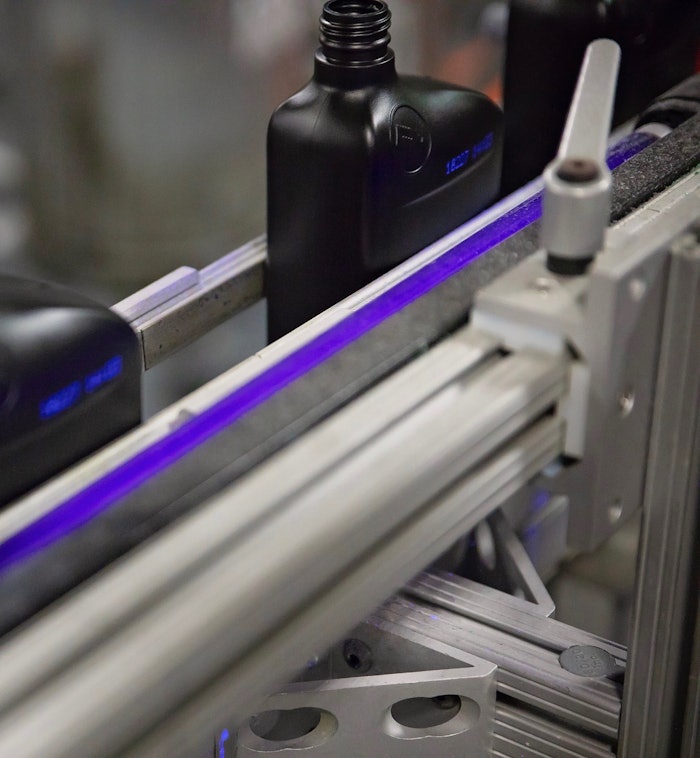 Headquartered in Omaha, NE, automotive lubricant specialist Warren Distribution blends, packages, and distributes lubricants and chemicals for the automotive industry for both own-brand and private-label channels.
At its Council Bluffs, IA, site, 10 packaging lines are in operation, some at speeds to 280 bottles/min. Reliability is critical, and nowhere is that more true than in the ink-jet date coding stage for each high-density polyethylene bottle. Beyond the need for speed, the coding equipment must accommodate frequent color changes and a variety of container sizes ranging from 4 oz to 5 gal. Plus, like other modern manufacturing environments, space is limited and variability in temperature and humidity must be expected.
Working closely with PALCO Industrial Marking and Labeling, a Hitachi distributor, Warren has successfully integrated nine Hitachi ink-jet printers. When it recently installed its first UX Series printer, Warren became one of the first to commercialize this new offering from Hitachi. The IP-65 rated machines in this series can be integrated into a variety of production requirements without worry or modification of existing production processes such as wash-down proceedings.
They're also notable on several other fronts, beginning with a new tapered print head that makes it possible to get the print head even closer to the surface being printed. The UX Series print head also features a new Nickel-Chrome finish that provides exceptional corrosion resistance. Plus a single UX print head can now print up to six lines of text by employing an innovative print control system.
A diaphragm-based circulation system unique to Hitachi greatly improves reliability while decreasing consumption of makeup. The UX Series printers incorporate a temperature-regulated motor speed control, minimizing solvent consumption to help reduce operating cost. And pumps can be replaced individually, thus keeping Total Cost of Ownership in line.
Another feature of this new series of Continuous Ink Jet printers is efficient ink recovery. Unlike traditional fluid recovery systems, where ink passes through a channel of air, thus increasing the evaporation rate and, consequently, fluid makeup consumption, ink is recovered using a pulsating system that reduces the evaporation rate and makeup consumption.
Fluid management in general has been simplified on the UX Series. Icons on screen provide simple, visual feedback to an operator. Ink and Makeup cartridges are easily identifiable and sized to fit in their respective receptacles. RFID Recognition is used for ink and Makeup replacement. A quick scan of each bottle allows the system to identify the ink or Makeup in question and instruct the operator based on compatibility. Ink filters can be replaced without the use of tools or the need for a technician to get involved. Both ink and Makeup cartridges can be used right up to the last drop and drain fully into their reservoirs. Complete fluid evacuation allows ink and makeup containers to be disposed of through conventional methods without having to rely on costly hazardous disposal methods.
As for print control, it's designed to be intuitive. A 10.4-in TFT LCD touch-panel screen provides a wide, easy-to-see viewing angle. When changing print messages, a preview function allows the operator to verify on screen what message will be changed to help avoid erroneous printing. Messages can be easily backed up onto a USB flash drive for convenient transferring to other printers. Ethernet is a standard feature on UX-D machines. In addition, open network is supported, allowing easier system integration. Collective management via a host system enables two or more devices to be easily networked.
Impressive as the new capabilities of the UX Series may be, the folks at Warren are also mighty happy that their newest CIJ printer shares the one characteristic that marks all nine of their currently operating Hitachi printers: reliability. Line Technician Greg Lightner puts it this way: "I don't have to ask myself when I come, 'Is the printer going to work today?' That's the furthest thing from my mind."
Companies in this article