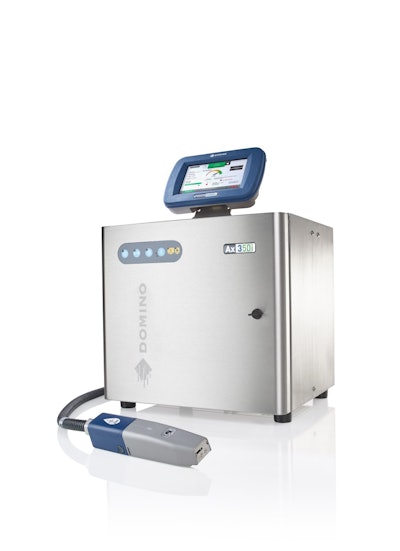 With a heritage dating back to the late 19th century, Portugal-based Sovena aims to bring the world the best olive oil. As one of the planet's largest producers of vegetable and olive oils—with an estimated $1.4 billion in earnings since 2015, 80% of which comes from exports—Sovena must ensure the quality and traceability of its products.
The company extracts, processes, and bottles its products in eight manufacturing plants and four mills based in eight countries for global distribution, so while speed and productivity are essential, traceability also has a key role to play.
To help fulfill Sovena's mission to "inspire people to eat healthier and tastier by using olive oil," the company puts its trust in Domino, and in particular the company's Ax350i continuous ink-jet (CIJ) printing equipment (shown in the photo). Domino equipment prints on packaging for products that are sold in more than 70 different countries, typically printing in black ink the production dates for national and international markets on the bottle necks.
"Coding in the food industry is vital and must be guaranteed for every product—it is for exactly this reason that we put our faith in Domino's Ax350i printers to perform this task," explains Rui Ramos, Consumer Goods Refinery Production Manager.
"At Sovena, we don't just seek traditional supplier-customer relationships, we look for partnerships. Domino is our partner for coding and marking, an essential industry protocol," he adds.
Ramos, based in Sovena's Portuguese Barreiro plant, explains why the Ax-Series printers (12 in all) were selected to meet the requirements for the oil manufacturer's global distribution processes: "Once we saw the robust, reliable, advanced technology of the Ax350i, the decision was easy."
The Ax350i CIJ printer features precision ink drop technology. It can produce high-quality messages onto Sovena's oil product packaging. The printer incorporates Domino's i-Pulse inks, which can endure harsh post-print processes on the oil manufacturer's busy production lines.
While meeting all the quality guarantee requirements and technological logistics, ultimately, speed and productivity do remain vital to Sovena's success. Domino's i-Techx software platform helps put Sovena's operators in control. Its ease of configuration ensures simple integration of the printer into networked systems, automating coding operations through Manufacturing Execution Systems (MES) and Enterprise Resource Planning (ERP) to prevent operator error.
Luísa Dordio, Sovena's Consumer Goods Manufacturing Engineer, notes, "With this equipment, we are able to improve the quality of marking on our products. Since we work with PET packaging, we need to produce codes with the best definition—the Ax350i's ink delivers this and helps us to reach our fundamental business goals."
Companies in this article